The Best Corporate Thriller of the 2010s Just Hit Netflix
Be careful who you connect with.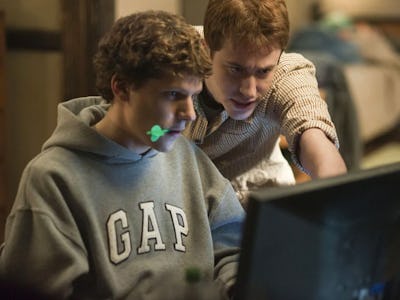 Sony Pictures
Making a film about the modern world is no easy task. The present has always proven to be an elusive subject for filmmakers, and that's perhaps never been truer than it is today. Few films have managed to offer a satisfying portrait of our age, one defined by overwhelming exposure to misinformation, ceaseless technological advancements, and toxic, arrogant disruptors.
The Social Network, however, provided a compelling look at how we got to our post-Silicon Valley era. The David Fincher-directed film is a masterful corporate thriller, one of the most well-crafted and effortlessly engaging American dramas of the century. It is simultaneously immense and sleek, titanic yet digestible, and now it's streaming on Netflix.
Based on Ben Mezrich's 2009 non-fiction book The Accidental Billionaires, The Social Network picks up with a 19-year-old Mark Zuckerberg (Jesse Eisenberg) getting dumped. Newly single, Mark responds to his breakup by writing hate blogs about his ex and hacking into Harvard's online databases to create a website that allows male students to pit their female classmates against each other based on their looks. When his stunt attracts the attention of a pair of upperclassmen, Cameron and Tyler Winklevoss (identical twins, both played by Armie Hammer), he's inspired by some of their ideas to create a social media platform known as Thefacebook.
Mark asks his best friend, Eduardo Saverin (a standout Andrew Garfield), for a financial investment, but things get complicated when the website takes off faster than anyone could have expected. Before long, Mark partners with exiled Napster founder Sean Parker (Justin Timberlake), and the two take the world by storm. The Social Network, which adopts a multi-layered, split-timeline structure, charts the creation and meteoric rise of Facebook... and the legal fallout of Zuckerberg's early decisions.
Over its lean 120-minute runtime, the film oscillates between a propulsive legal thriller and a Citizen Kane-inspired portrait of 21st-century American rot. Its screenwriter, Aaron Sorkin, proved uniquely adept at switching between the film's tones, delivering the considered pauses and cutting silences typical of his West Wing monologues and walk-and-talks. There's an unmistakable, infectious rhythm to Sorkin's dialogue, which Fincher and editors Angus Wall and Kirk Baxter further emphasize by stripping the film of any possible fat.
Fincher, as mercenary a filmmaker as there's ever been, is the perfect counterpart to the sometimes self-indulgent Sorkin. What emerges from their one-time collaboration is, perhaps, the most well-edited and observant mainstream film of the 2010s. The Social Network just moves from beginning to end, constantly driven forward by Wall and Baxter's editing and Trent Reznor and Atticus Ross' all-time great score, which functions as both a guitar string tension machine and a mournful accompaniment to the film's many betrayals.
What happens in The Social Network is a modern-day tragedy. But unlike Citizen Kane, which believes its media baron lost his soul somewhere along his rise to power, The Social Network doesn't afford the same courtesy to its real-life characters. The film positions Zuckerberg as a careless and vindictive manipulator who, even at the height of his power, still demands constant validation.
Fittingly, it's a film that ends not with the demise of its powerful lead, but with the quiet clicking of his keyboard and an expression of smug discontentment that seems to hold all the unnerving answers to every question one might have about the Internet Age.
The Social Network is streaming on Netflix.