Steven Soderbergh Delivered the Best Hitchcockian Thriller of the 21st Century
Side effects include murdered movie stars and shocking plot twists.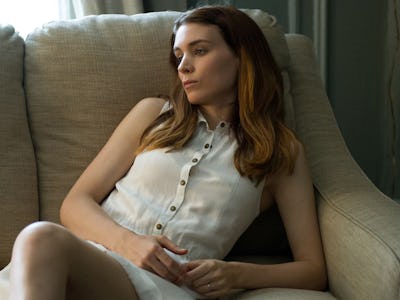 Open Road Films
"We wanted to make a movie that was sort of in the tradition of a Hitchcock mindf***," said screenwriter and producer Scott Z. Burns about the psychological thriller billed as Steven Soderbergh's directorial swansong. It's fair to say 2013's Side Effects, which just hit Amazon Freevee, fulfilled the brief.
From the Psycho-esque opening shot that slowly zooms through the New York skyline into the window of an apartment with a suspicious blood-stained carpet, it's clear we're firmly in the Master of Suspense territory. That's not the only nod to the Bates Motel, either.
We soon learn the blood belongs to one of the A-list cast's biggest names, Channing Tatum's convicted insider trader Martin Taylor, who's dispatched with ruthless efficiency by a kitchen knife a la Janet Leigh's ill-fated showerer. The film subsequently shifts perspective from Rooney Mara's suicidal socialite, Emily Taylor, to Jude Law's psychiatrist, Jonathan Banks, just as Psycho did from Marion Crane to Norman Bates. Soderbergh even adopted Hitchcock's policy of refusing late admission ("You must see Psycho from the very beginning") to screenings, albeit only for critics.
Side Effects also borrows narrative elements from Rear Window, with Law recapturing Jimmy Stewart's paranoia as a makeshift detective struggling to determine what's real. And there are shades of everything from Spellbound and Vertigo to Marnie and The Wrong Man throughout the film's lean 106 minutes.
Of course, Soderbergh has more to offer than a Hitchcock tribute act. Side Effects is just as much a scathing indictment of modern pill-popping culture, particularly the role of Big Pharma ("There's a point where you have to ask yourself, are these companies the arsonist or the firefighter?" the filmmaker said on the promotional trail). However, it's the devilish twists and turns that keep the audience hooked.
Emily provides our entryway into this unnerving world, shot with an intimacy and aptly muted color palette by Soderbergh. She initially cuts a relatively sympathetic figure, even after fatally stabbing husband Martin in the wake of his release from a four-year prison stint. She'd been prescribed an experimental new drug to deal with her depression ("Take Ablixa today and take back tomorrow" the TV ad proudly declares), and its most severe side effect appears to have been murderous sleepwalking.
With Tatum taking up as much space on the film's poster as Law, Mara, and Catherine Zeta-Jones (who plays Emily's previous psychiatrist, Victoria Siebert), his abrupt departure is just the first of many occasions when Soderbergh gleefully pulls the rug from under viewers' feet. Although Emily's claims of also being an innocent victim are originally backed up by Jonathan, entirely ruining his professional standing, he soon discovers the "not guilty by reason of insanity" verdict is a miscarriage of justice. In fact, his patient essentially took the drug's small print proviso, "in some cases, death may occur," as an instruction. And she's in cahoots with his predecessor, too!
Emily never intended to kill herself when she deliberately drove into a wall; it was all just part of an elaborate scheme to appear manic depressive, get away with offing the husband who could no longer provide the fancy lifestyle she'd become accustomed to, and manipulate Ablixa's stock price, with the end goal a drive off into the sunset with the equally Machiavellian Victoria. It's to Soderbergh's credit, and his talented cast's, that this blatantly preposterous plan plays out with some credibility.
Hot on the heels of The Girl with the Dragon Tattoo, Mara is particularly impressive in a multi-faceted role that requires her to be vulnerable and despondent one moment, vindictive and deceitful the next. Law also excels as a man driven to the depths of despair in both his personal and professional life, while Zeta-Jones delivers her most impressive performance since her Oscar-winning turn in Chicago as the conniving doctor with a distinct lack of ethical boundaries.
No stranger to knotty narratives (see the Ocean's franchise, Haywire, The Limey), Soderbergh also slots all the pieces of the psychological puzzle together with aplomb, ending the whydunit with a payoff that's both satisfying and cleverly Kafka-esque. Side Effects, of course, didn't turn out to be his cinematic farewell: within four years, the Academy Award winner was back behind the camera for the similarly twist-filled, if far more frivolous, Logan Lucky. But had Soderbergh stuck to his word, this Hitchcockian throwback would have been a fine way to bow out.
Side Effects is streaming on Amazon Freevee.