Netfix's Best Sci-Fi Movie of the Year Fuses Blaxploitation and Scooby-Doo
Director Juel Taylor lists the films that inspired his trippy sci-fi thriller.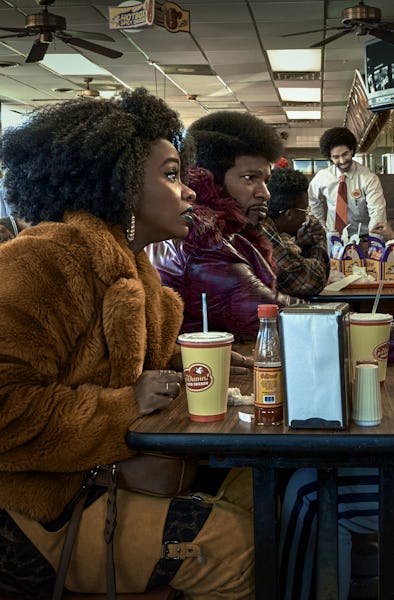 Netflix
Juel Taylor never imagined that his debut feature would tout such a cheeky title. They Cloned Tyrone sounds more like a Weird Al cover of the eponymous Erykah Badu song (a truth that the Netflix film makes sure to acknowledge before the credits roll). But in the beginning, it was actually the working title for what would become the Creed II scribe's directorial debut. He had a slightly more cerebral title in mind for the real thing.
"We were going to call it Reagan Era," Taylors tells Inverse. It certainly encapsulated the Matrix-like paranoia and haunting themes that Taylor wanted to explore in the film. But it glossed over another side of his story: the coded humor that invoked films like Shaft and Friday. As Taylor and his writing partner, Tony Rettenmaier, developed the story further, They Cloned Tyrone felt more like a natural fit. The epithet was also more popular with Taylor's friends. "The more I said it as just the joke title, the more people gravitated towards that," Taylor explains. "And then it was They Cloned Tyrone."
The film may have started out as a hypothetical, but it's quickly taking on a life of its own. As for what he envisions next, Taylor isn't averse to sequels. But Tyrone must first resonate with its audiences, and (hopefully) inspire a Halloween costume or two. The writer-director is cautiously optimistic — but with its ironclad premise, unshakeable cast, and stunning production design, the Netflix film might already be a classic.
Inverse chatted with Taylor about the inspirations, iconography, and the joys of disorientation in They Cloned Tyrone.
This interview has been edited for clarity and brevity.
This is your directorial debut, so how did you land on They Cloned Tyrone for your first big project?
It kind of sprang from a few places, but really this question of, "Is there a difference between blame and responsibility?" It was kind of like a thematic North Star that we tried to build off of. A lot of friends had some circumstances outside their control that derailed what they had going on. Just thinking about that, and just how their trajectories kind of diverged and the role that privilege played in that.
Just from a meat-and-potatoes standpoint, it was just wanting to make a bootleg Scooby-Doo movie: a mystery movie where these detectives are the most ill-equipped detectives to solve a mystery, but somehow strangely equipped at the same time due to a very unique set of skills that your average detectives may not possess. I think those two things came together to create the plot in the story, so to speak. And from there, the conspiracies kind of organically grew out of that.
You've got experience on some pretty big sets, Creed II especially. How did previous projects prepare you to tackle this story?
I think you learn a little something from everything, from film school sets to, obviously, Creed II. Steven Caple Jr. [the director of Creed II] is one of my best friends from USC, a super good friend who took a chance on us in the first place. And not too long out of film school … that was his second movie. I think just learning from him, [and] even down to executives. It's not always just from the writers or from the directors. Sometimes you're just learning things from the execs, learning things from your friends who read your script and give you notes, give you feedback.
When it came time to direct myself, I was fortunate enough to be on a few sets of a certain scale and kind of just see the general order of operations. It all kind of goes back to film school when you're literally with the actors talking. But there's a learning curve in terms of just acclimating to the scale of it all, and the things that you didn't necessarily have to do in your film school sets that you now have to account for… A lot more things could go wrong now. And I was able to kind of — at least [as] a fly on the wall — kind of see that a little bit, particularly on Creed.
You mentioned Scooby-Doo, and I'm sure blaxploitation was another cornerstone for this film, too. Were there any specific films that you took inspiration from — or any specific moments from pop culture or your personal life?
For sure. There's a lot of, obviously blaxploitation: The Mack, Foxy Brown … the iconography in general was heavily borrowed, particularly from The Mack, the original Superfly … You'd probably recognize one of Jamie's costumes was featured in the original Superfly, as you get to the movie as a costume homage.
Even outside of that, there are a lot of things that influenced the worldbuilding … Just the ethos of the worldbuilding was influenced a lot by Napoleon Dynamite, actually, and It Follows. There's so many anachronisms in those movies in that they're not period pieces, but they feel like it. There's a lot of temporal dissonance, and disorientation that you feel watching a particular movie.
It Follows is a wildly different movies from this one, but even though a different genre, I thought, "I love that movie." I love watching a movie and feeling disoriented by the worldbuilding. So I knew given the world that we wanted to play in, that sense of being out of time… I thought it made a lot of sense for this particular story to play with the when and the where.
Two of your stars are in some of the bigger sci-fi fantasy franchises, Marvel and Star Wars — and Steven Caple, who you just mentioned, just hopped over to the Transformers franchise. Do you have your sights on joining a saga like that in the future?
I don't know, really. I mean, I kind of like to make just original stuff. I'd love to make a world that becomes one of those tentpole universes. That's what Tony, my writing partner and I, feel like our ultimate goal is: to create a universe where people would have theme weddings that live in that universe. You know, a universe when somebody's getting married with your iconography that you created out of your own imagination.
I just hope people like this movie. I'm just like, "Hopefully people want the first one," and then if I'm lucky enough that people like this one, then maybe they'll…
Dress up as Yo-Yo for Halloween, or something?
Yeah! I mean, that was part of the goal: to pass that silhouette test, you know what I mean? And make it so that hopefully people will dress up as some of these characters for Halloween.
They Cloned Tyrone hits Netflix on July 21.