A classic Cold War monster movie is finally getting the remake it deserves
Michael Giacchino, known best for scoring Pixar's greatest hits, is gearing up for a monstrous directorial feature debut.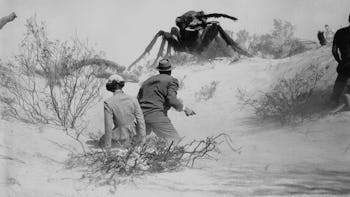 Before zombies, vampires, and werewolves became the hottest monsters in Hollywood, America went through a gargantuan creepy crawler phase that led to the likes of Tarantula (1955) and The Deadly Mantis (1957). The creature feature trend was kicked off by Warner's Them! (1954), which centers on an unusual national threat: enormous irradiated ants desperate to establish new nests across the country.
Starring James Whitmore, Edmund Gwenn, Joan Weldon, and James Arness, Them! has been regarded as one of the best and most influential sci-fi flicks of its time due to its special and practical effects, its quick and tense pacing, and its credible and well-written narrative (even if it requires a significant suspension of disbelief).
Now, nearly seven decades after its theatrical release, Them! is getting the reboot treatment with a fresh take on the story from Michael Giacchino. Known best for composing Up, The Incredibles, Coco, Ratatouille, and other Pixar greats, as well as The Batman and Marvel's Werewolf by Night, this will be Giacchino's directorial feature debut.
"There's always a movie in your mind that never leaves your head," Giacchino said in an interview with Deadline. "For me, that's Them! It wasn't until much later in life until I learned what it was about — the nuclear age... What I love about Them! is exactly what it's called: Them! It's about the other, the unknown which one refuses or can't understand. The current version of Them! is about immigration, and to tell a story about the subject through a lens of this insane science fiction monster movie."
Giacchino's musical resume is impressive — No Way Home, Thor: Love & Thunder, and Rogue One are just a few additional credits — and he made his directorial debut in 2019 with an episode of Star Trek: Short Treks, which he also scored. He later directed and scored Marvel's Werewolf by Night special. Them! will be Giacchino's first-ever feature film, but his experience on the whimsical Disney+ throwback should serve him well, and Giacchino's filmmaker brother, Anthony Giacchino, will also be involved in the production.
"Michael Giacchino is a unique talent. We're excited to be working with him and have him at the studio," Warner President of Production and Development Jesse Ehrman told Deadline. Ehrman reportedly caught Giacchino's Werewolf by Night and was impressed, which bodes well for the fun, old-timey vibes a Them! remake will presumably have.