Netflix Quietly Dropped a Wonderful New Wes Anderson Sci-Fi Short — And There's More to Come
Fourteen years after Fantastic Mr. Fox, Wes Anderson puts his delightful spin on more Roald Dahl stories.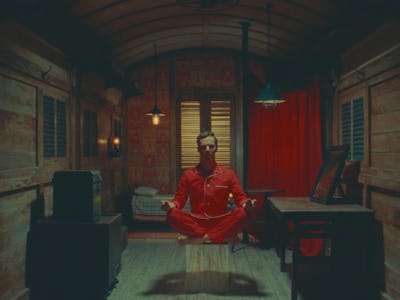 Netflix
Wes Anderson and Roald Dahl are a match made in heaven — the Asteroid City director made his animation debut with an adaptation of Dahl's The Fantastic Mr. Fox — so it's no wonder the visually extravagant filmmaker would take another stab at adapting more stories by the verbally extravagant writer.
The Wonderful Story of Henry Sugar is one of four shorts by Anderson adapting Dahl's works, most of them part of the short story compilation from which the original Henry Sugar story originates. The other three, The Swan, The Rat Catcher, and Poison, are set to premiere on Netflix throughout the week, following Henry Sugar's debut on the streaming service today. Each is a fantastical story befitting the writer of Charlie and the Chocolate Factory and Matilda: mundane events that are turned otherworldly by some trick of magic, science, or miracles. But none is more miraculous than the technically dazzling fable Henry Sugar.
If Henry Sugar, which made an acclaimed run on the film festival circuit shortly before its Netflix release, is the amuse-bouche to the other shorts, then the entire series should be a delightful concoction, a showcase of the best of Anderson in lovely, digestible increments. But the 39-minute short (scaled down from the feature-length film Anderson originally envisioned) feels more like a definitive statement from Anderson, a tremendous embodiment of who he is as a filmmaker right now condensed into one meticulously crafted short film.
Henry Sugar (Benedict Cumberbatch) is an idle, self-involved millionaire who discovers a book detailing the remarkable story of a man who learned to see without his eyes. Henry is instantly inspired to attempt to learn the ability for himself... to aid him in gambling. Lessons are learned and revelations are had, but the plot is hardly the point of this wonderfully transporting short. As with many a Wes Anderson story, it's the form, and the emotional truths hidden underneath his signature symmetrical surfaces, that matter.
Following the self-reflexive triumph of his recent film, Asteroid City, Anderson doubles down on the theatrical nature of filmmaking with Henry Sugar. The short is told through several layers of storytellers: a writer (Ralph Fiennes) recounts the story of Henry Sugar, who recounts the story of Dr. Chatterjee (Dev Patel), who recounts the story of Imdad Khan (Ben Kingsley). All the while, the characters narrate their own actions and lives, with Anderson's script often taking lines straight from Dahl's short story.
As the film shifts from an austere British mansion to the jungles of India, Anderson shows glimpses of the chaos behind the scenes. Each setting is actually a painted backdrop we can see the edges of, each tertiary character is one of the core six actors with different facial hair. It feels of a piece with the evolution in how Anderson treats his own brand of artifice in Asteroid City. He calls attention to it, shows us a peek behind the curtain, and in doing so finds deeper emotional truths than we thought possible.
Anderson's magic has long laid in how effortlessly he pulls off his technical wizardry, dazzling us with his style to distract us from climactic emotional gut-punches. Compared to his feature-length works, Henry Sugar feels charmingly small, a film that could have been cobbled together by 10 friends and one particularly skilled puppeteer. But that's the short's achievement: Henry Sugar shows a filmmaker at the height of his powers, using his finely honed skills and keen self-awareness to perfectly capture Dahl's whimsical spirit. It deserves to be regarded alongside Anderson's best works, if just to show how finely tuned a director he is, and how he can still manage to delight and surprise us — even in under 40 minutes.
The Wonderful Story of Henry Sugar is streaming on Netflix now. It will be followed by The Swan on September 28, The Rat Catcher on September 29, and Poison on September 30.