Asteroid City Trailer Gives Wes Anderson's Unique Style a Sci-Fi Twist
Prepare for a close encounter of the twee kind.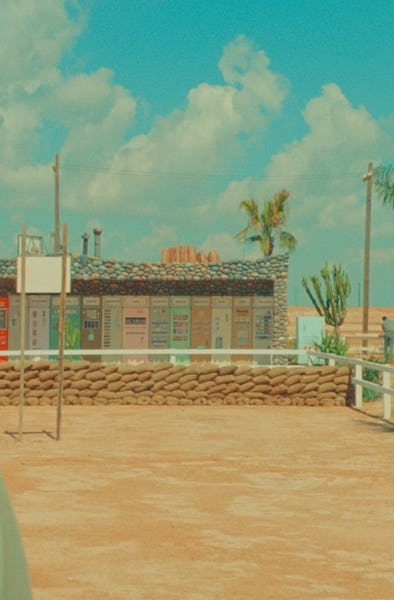 After delivering a delightfully quirky and heartwarming anthology film with 2021's The French Dispatch, Wes Anderson is breaking into fresh territory with his science-fiction comedy Asteroid City. Revered in college dorms and indie record shops, Anderson has always been known for his idiosyncratic brand of eccentric sentimentalism and impeccable sense of visual framing. Despite veering back and forth between live-action and stop-motion animation (most recently with 2018's Isle of Dogs), the director has maintained a beloved and recognizable style across his 10 movies. His next project, which dropped a trailer today, looks to take that style and map it onto a genre Anderson hasn't dabbled in yet.
Set in a fictional American town during the 1950s, Asteroid City focuses on an interstate Junior Stargazer convention that becomes ground zero for what might turn out to be first contact. This feels like Wes Anderson's Close Encounters of the Third Kind, and although there are no glimpses of real aliens just yet, the giant UFO in the trailer is certainly an indication that this will be a little more fantastical than something like Rushmore.
Of course, it wouldn't be a Wes Anderson film without the presence of frequent collaborators, including Adrien Brody, Tilda Swinton, Ed Norton, and Jason Schwartzman, who plays a father stranded in Asteroid City with his children. Alongside the returnees is a smorgasbord of newcomers rounding out a massive cast, including Academy Award nominee Hong Chau, Scarlett Johansson, Bryan Cranston, Jeffery Wright, Maya Hawke, Sophia Lillis, and Jeff Goldblum. It's an ensemble so large that it might just rival the juggernaut put together by Christopher Nolan for Oppenheimer, which also releases this year.
Surprisingly, Asteroid City isn't the only Wes Anderson movie coming out this year. In the fall, audiences will also be treated to The Wonderful Story of Henry Sugar, a Netflix adaptation of the Roald Dahl short story. This will be Anderson's second adaptation of a work by the acclaimed children's author (the first being Fantastic Mr. Fox), and although neither of his 2023 projects will be fully animated, both will include stop-motion elements. While each film will undoubtedly carry the director's signature playful style, it'll be fascinating to see what he does within the conventions of sci-fi when Asteroid City releases on June 16th.