The Walking Dead's Latest Spinoff Could Finally Reclaim the Franchise's Old Glory
AMC is looking to shamble back into the conversation.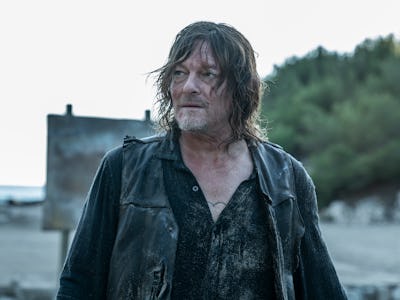 AMC
This weekend, AMC will unveil its second Walking Dead spin-off of the year. The Walking Dead: Daryl Dixon takes place on a separate continent from this summer's The Walking Dead: Dead City, and seems primed to build off its parent series' conclusion in unique ways. It also features the long-awaited return of Norman Reedus' fan-favorite character, Daryl Dixon, whose popularity seemed to eclipse that of The Walking Dead itself in the series' later seasons.
Daryl Dixon has the potential to be the biggest Walking Dead spin-off yet. And, if it fixes some of the issues that dragged its 11-season-long predecessor down, it could bring The Walking Dead back into the pop cultural conversation for the first time in years.
Set an unspecified amount of time after the original series' conclusion, Daryl Dixon follows its hero as he finds himself washed ashore in a post-apocalyptic France. Once there, Daryl ends up assigned to protect and guide a young boy named Laurent (Louis Puech Scigliuzzi), who the show's trailer suggests may "lead the revival of humanity."
In other words, the series won't immediately fulfill Daryl's self-appointed quest to find Rick Grimes (Andrew Lincoln). Instead, Daryl Dixon seems like it will be the simplest Walking Dead spin-off AMC has produced. The show's French setting aside, its hero's mission and journey seem fairly self-explanatory (and immediately familiar to anyone aware of The Last of Us). It's hard not to view that as a positive. The later seasons of The Walking Dead suffered from overly convoluted plotting and storylines that made the show's post-apocalyptic world feel much more crowded than it needed to be.
With a new setting and a wholehearted embrace of Daryl's unique blend of earnestness and sarcasm, Daryl Dixon seems like the most tonally assured spin-off that Walking Dead fans have seen. Tone has always been a problem for the franchise; outside of its first season, The Walking Dead frequently struggled to strike the right balance between the comic book pulpiness of its source material and the gritty realism of its Atlanta-informed aesthetic.
Daryl Dixon seems fully aware of what it is, which may help it dodge that issue. While the spin-off is sure to have its moments of somber drama and conflict, it already seems to boast a healthier mix of light and dark than The Walking Dead, which had a tendency to spend too much time wallowing in its own oppressively miserable storylines.
Notably, while Daryl Dixon looks markedly different from Season 1 of Dead City, there are a few things the two shows have in common. Both feature the return of fan-favorite characters, and both have brand new settings (Dead City is set in Manhattan). While Dead City was fairly well received and earned a Season 2 renewal, it didn't manage to resurrect the franchise's increasingly low profile. Daryl Dixon has the potential to do just that.
It also has a lot of work to do to repair the franchise's reputation. Its success is far from assured, but for now, fans can take comfort in the fact that Daryl Dixon's first season will only demand six episodes' worth of their time. That means the series is, at the very least, already destined to not be nearly as bloated as The Walking Dead's last two seasons. That ain't nothing, especially for a franchise that's long needed a simple, straightforward zombie adventure. Hopefully, that's exactly what The Walking Dead: Daryl Dixon delivers.
The Walking Dead: Daryl Dixon premieres its first two episodes Sunday, September 10 on AMC and AMC+.