How The Last of Us Avoided Becoming "Disaster Porn"
The production designer of HBO's hit show sheds light on how he built a "beautiful" apocalypse.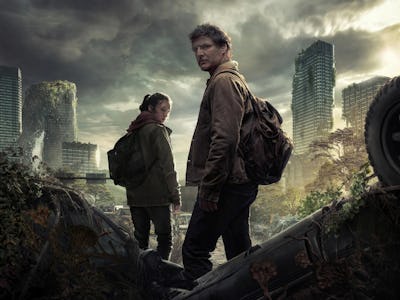 In The Last of Us, the world ended in 2003. The HBO show's post-apocalyptic society is one built on scraps, trash, and Gore/Liberman t-shirts — held together by duct tape and a will to survive. It's what made the world of Naughty Dog's 2013 acclaimed game so appealing. And it's what made production designer John Paino the perfect person for the job of bringing that world to life.
"People had to make do and reuse things," Paino tells Inverse. "There's no Kmart, no Walgreens, no stores. What you got is what you got, and that's all you are going to have. And if it breaks, you gotta fix it yourself. That's how people survive."
"It's a metaphor," he adds, "and also just a good reference."
But for Paino, creating the post-apocalypse of The Last of Us was about more than just piling up corpses and broken iPods. The production designer says he found beauty in the end of the world through the eyes of its protagonist Ellie and by focusing on naturalism over special effects. Here's how he did it.
All-natural
The Emmy-nominated production designer (whose work can be seen in films like Dallas Buyers Club and Wild and TV series like Sharp Objects) learned over the course of his career to embrace and emphasize the real. He credits director Jean-Marc Vallée, with whom he worked since 2013's Dallas Buyers Club, with teaching him this valuable skill.
"Jean-Marc was the first person I've worked with who literally said, 'The art department is going to light the show,'" he recalls. "When I started working with him, digital cameras had advanced so much they could get exposure with practical lighting a lot."
Once you know to look for it, you'll see this everywhere in The Last of Us. For one thing, almost every character carries a flashlight, leading to several tense scenes lit only by thin beams of light piercing through a zombie-infested darkness.
"We did a lot of built-in lighting for the show," Paino says. "Ironically, there would be no electricity after a certain point, but where we do there'd be little artificial lighting as far as film lighting."
"Craig always said this is about these two people. We do break away to vistas and things like that, and we see them, but it really is about two people. It is intimate. It is honest."
Naturalism is a key part of what makes HBO's The Last of Us such a successful adaptation of the acclaimed Naughty Dog game. Without pixels and skill trees, all that's left is a simple story of Ellie and Joel's (Bella Ramsey and Pedro Pascal) westward journey through familiar — and not-so-familiar — territory. To create the backdrop for this journey, several sets were built from scratch, some as high as 20 feet tall.
On set, the mention of "green" referred to the vegetation brought in to give the show its "nature is healing" aesthetic, rather than the green screen technology that dominates Hollywood. Of course, there are still some computer-enhanced moments, especially when it comes to the show's looming post-apocalypse vistas and some portrayals of the zombie-like Cordyceps outbreak, but it's always done with restraint.
"There's a reason, not superfluous like 'disaster porn,'" he adds. "[Co-showrunner] Craig [Mazin] always said this is about these two people. We do break away to vistas and things like that, and we see them [the Infected], but it really is about two people. It is intimate. It is honest."
"Frightening and beautiful"
Paino also credits Ellie's perspective in giving The Last of Us its sometimes-otherworldly aesthetic. Bella Ramsey's character was raised in a government-controlled military school and knows nothing of the world outside its protected Quarantine Zones. This colors her experiences as equal parts "frightening and beautiful," which the audience sees through both the acting and the production design.
"In the third episode, Ellie's looking at the Infected kind of quivering down there, and she's like, 'It's beautiful,'" Paino says. "It's always great to get her to [see] things that she's never seen or been in before, like later on when she's in a car that's moving. These are all nice counterpoints to the horror of what has happened and what's going on."
But whether its guiding Ellie through the apocalypse, creating the set for a 1960s talk show where scientists predict the outbreak in Episode 1, or finding unique ways to light the post-apocalypse, the thing that stands out most to Paino is the massive scale of The Last of Us.
To put things in perspective — and to further validate reports on The Last of Us being the largest Canadian production ever — Paino recounts working across 90-something sets, three backlots several acres each, and 180 locations.
"Each episode was like a movie," he says, adding, with a hearty laugh, "so wow, we made nine movies!"
The Last of Us is streaming on HBO and HBO Max.