The Last of Us' Best Needle Drop is a Brilliant Video Game Easter Egg
Today's another day to find you.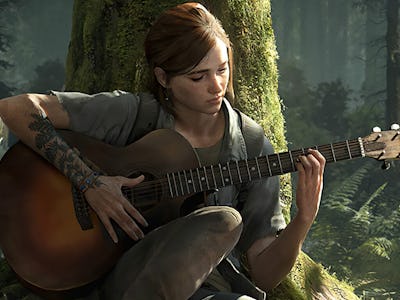 Naughty Dog
In Episode 7, HBO's The Last of Us takes a trip back in time. While Ellie (Bella Ramsey) struggles to care for Joel (Pedro Pascal) in the wake of his injury at the end of Episode 6, viewers are shown the night when Ellie and her best friend, Riley (Storm Reid), snuck into an abandoned mall in the Boston Quarantine Zone.
Over the course of "Left Behind," viewers learn about the romantic feelings that Ellie and Riley shared, as well as how Riley was recruited to the Fireflies by Marlene (Merle Dandridge). In Episode 7's final moments, the two are then attacked and bitten by an infected that had previously been asleep in the mall.
The episode, in other words, finally reveals how Ellie discovered that she was immune. Before that, however, "Left Behind" packs in a needle drop that not only references 2020's The Last of Us Part II but also foreshadows the tragic outcome of Riley and Ellie's mall adventure.
Take On Me
In the first half of Episode 7, Riley welcomes Ellie to the abandoned mall that she's turned into her hideout. It doesn't take long for Ellie's mind to be blown by the lost technology hidden within; Ramsey's post-apocalyptic survivor quickly loses her mind over a working escalator.
As Ellie and Riley walk up and down the escalator together, A-ha's "Take On Me" plays quietly in the background. The significance of the song's inclusion likely won't be lost on fans of the original games, as Ellie performs the song in one memorable cutscene from The Last of Us Part II.
In The Last of Us Part II, players have the option to explore an abandoned music store during Ellie's initial excursion into Seattle with her girlfriend, Dina (Shannon Woodward). If they do, Ellie finds a guitar and then plays "Take On Me" for Dina, in one of the game's more memorable and touching moments.
For that reason alone, the song's inclusion in "Left Behind" is notable. It's made even more noteworthy by the fact that the song, which is associated with a romantic moment between Ellie and Dina, plays over a similar moment of intimate connection between Ellie and Riley.
The Last of Us has also established that '80s music means trouble, and given the tragic conclusion of "Left Behind," it's hard not to look at the episode's use of "Take on Me" as a sneaky moment of foreshadowing.
The Inverse Analysis — Whether it's a drawing of Ish or a conversation about sheep ranches and astronauts, The Last of Us has gone out of its way to reference the games that inspired it. Episode 7 only continues that trend, bringing its source material to life in a way that has a secret meaning for gamers and, potentially, viewers of future seasons.
New episodes of The Last of Us air Sundays on HBO.