The Last of Us Episode 5 Rewrites One Heartbreaking Video Game Scene
And here we were thinking this scene couldn't possibly get any sadder.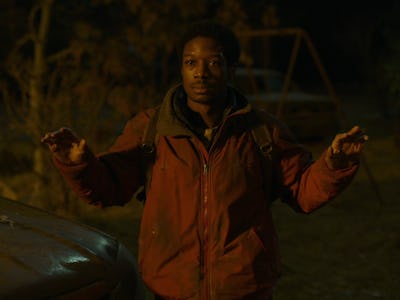 With the exception of its standout third episode, HBO's The Last of Us has stuck remarkably close to its source material.
Even its fourth and fifth episodes, which feature an original villain named Kathleen (Melanie Lynskey), stay true to the heartbreaking final beats of the game's infamous summer chapter. Unfortunately, that means the TV show sends both Henry (Lamar Johnson) and his younger brother, Sam (Keivonn Montreal Woodard), out in heartbreaking fashion.
Episode 5 ends by bringing one of the most tragic moments from the game to life. The episode, penned by showrunner Craig Mazin, even makes Henry and Sam's final moments hit harder by tweaking one small scene between Sam and Bella Ramsey's Ellie.
A Tragic Twist of Fate — In The Last of Us Episode 5, "Endure and Survive," a horde of zombies swarm Kathleen and her band of Kansas City rebels, effectively wiping them out and providing Joel (Pedro Pascal), Ellie, Henry, and Sam with the perfect chance to escape their would-be murderers. The group doesn't make it out unscathed, though.
In the hours that follow, Sam reveals to Ellie that he was bitten on the leg during the episode's climactic zombie attack. The next morning, an infected Sam attacks Ellie, forcing Henry to shoot him. Henry, in response, chooses to end his own life rather than live with the guilt he feels.
This sequence of events is mostly lifted from the game. However, in the game, Sam doesn't tell Ellie that he's infected, and Ellie doesn't make a desperate attempt to save Sam by rubbing some of her seemingly immune blood over his bite mark.
Ellie's attempt doesn't work, and both he and Henry meet the same fate as they do in the game. The decision to have Sam tell Ellie about his bite mark therefore seems like a small change, but it accomplishes several goals.
First, Ellie's decision to cut her hand open and share her blood with Sam reinforces just how young she still is. Her desire to save Sam, as well as her naive belief that all it will take is some blood, shows that for all her profane bluster, she's still an innocent kid. It also establishes just how badly Ellie wants to use her immunity to help others.
Finally, the scene suggests that it takes more than a blood transplant to pass on Ellie's immunity, a detail that will be very important down the line.
The Inverse Analysis — Across its first five episodes, The Last of Us has proven that it's not only capable of faithfully bringing its source material to life, but adding to it in satisfying ways. The closing moments of Episode 5 only continue that trend. HBO isn't just rehashing the game, but enriching it.
New episodes of The Last of Us air Sundays on HBO.