The Boogeyman Trailer Delivers a New Take on Stephen King's Monster Under the Bed
Better check under the bed.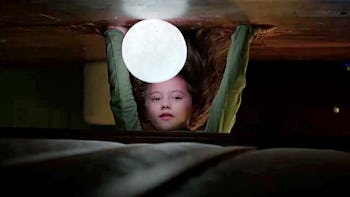 The Boogeyman looks like the perfect little horror film. Not only is it based on one of Stephen King's most terrifying short stories, but it plays off the classic nightmare fuel that scared us all as children: the idea of a monster lurking in a closet or under our bed. In our first glimpse of the movie, those scares are amplified with a cast full of the hottest breakout stars of the past few years.
The Boogeyman was originally set for Hulu, but is now getting a full theatrical release. It's directed by Rob Savage, who's best known for his Zoom-based horror flick Host, but there aren't many gimmicks to be seen in the trailer. In fact, it looks to be unadulterated classic scares, right down to 20th Century's plot synopsis:
Still reeling from the tragic death of their mother, a teenage girl and her little sister find themselves plagued by a sadistic presence in their house and struggle to get their grieving father to pay attention before it is too late.
Check out the full trailer below.
Aside from the spookiness, another element stands out: the cast. Sisters Sawyer and Sadie are played by Vivien Lyra Blair, best known as young Leia in Obi-Wan Kenobi, and Sophie Thatcher, who plays young Natalie in Yellowjackets and had a guest role in The Book of Boba Fett.
Joining them are Suicide Squad breakout David Dastmalchian and fellow DC star Chris Messina, who featured in Birds of Prey and has a long TV resume. Each actor was considered one of the strongest elements of their previous projects, so bringing them together is a definite draw for genre fans.
In an age of new and inventive horror movies like Skinamarink, adapting a 50-year-old short story may sound a little underwhelming. But a modern horror director and a variety of talented actors could easily bring new scares to this old horror story, and with any luck, it could become one of the summer's classic chillers.
The Boogeyman hits theaters on June 2, 2023.