The Best Meta Superhero Movie Turned Satire into a Surreal Trip
Fact meets fiction meets surrealism in this 2014 drama.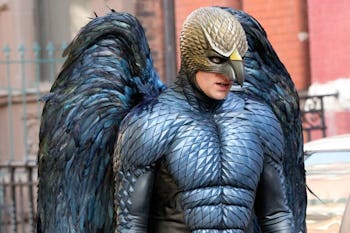 There's always a temptation to make a superhero who is very aware of the massive franchise they're a part of. Marvel has two different versions of this — Deadpool, whose R-rated antics mean he's not technically MCU canon, and She-Hulk, whose adventures on Disney+ forced her to literally climb out of the menu screen and confront a robotic Kevin Feige. In DC, Shazam is the go-to comedic superhero in live-action, and self awareness ripples throughout Harley Quinn.
But all these are superhero projects first, and self-aware movies second. In 2014, these priorities were reversed with an incredibly meta movie that focuses not on a superhero who knows he's an actor, but on an actor who is haunted by his superheroic past.
Birdman could have only starred a handful of actors — the happy few who have played Batman. Adam West was too old, Val Kilmer had medical issues, George Clooney was stepping behind the camera with The Monuments Men, Christian Bale was too recently in the cape and cowl, and Robert Pattinson was still Edward Cullen, not Bruce Wayne. That meant only one man could fill the shoes and wings of Riggan Thomson — Michael Keaton.
Keaton's similarity to Thomson is hard to ignore — both of them are "serious" actors whose superhero legacies seem to haunt them. From the public's point of view, Keaton seems to embrace his genre and comedic roles in the past. He even ventured back into the ever-expanding superhero movie universe by playing Vulture in Spider-Man: Homecoming.
Thomson, on the other hand, is trying to leave his past behind and make a name for himself in theatre by starring in and directing a Broadway play based on a Raymond Carver short story — basically the opposite of a comic book movie. In the course of what looks like one long, unbroken shot, we follow Riggan as rehearsals go awry, new actors cause a fuss, his daughter (Emma Stone) makes trouble, and his own superhero persona taunts him in the mirror.
Forget Deadpool, this movie is the ultimate satire of the superhero genre, dealing with the "lowbrow" image the movies are known to garner. Fellow superhero movie alum Edward Norton plays enfant terrible actor Mike Shiner who acts as the ultimate foil to Riggan: someone who would never stoop as low as to take a popular movie role. "Popularity," he says, "is the slutty little cousin of prestige."
But the burgeoning MCU and DCU aren't the only institutions in director Alejandro González Iñárritu's crosshairs. The film also skewers the theatre industry as well. It's not the nobler alternative to "slop" like superhero movies, it's an industry that's just as soulless and greedy, and Riggan slowly realizes that as he sinks more of his own money into the play and clashes with the egotistic Shiner.
Birdman's full title is Birdman, or (The Unexpected Virtue of Ignorance), and the reason behind that comes clear over the course of the plot on multiple levels — the ignorance of a man made a cuckold in his relationship, the ignorance of a screen actor fantasizing about the theatre, the ignorance of a man who refuses to face the truth of his inner monologue.
But by the third act, the shining facet of this gem of a movie is the surrealism. No superhero movie is complete without superpowers, and all throughout we see some hints that something may be afoot with Riggan. Aside from the fact he keeps seeing his former Birdman self in the mirror, there are certain powers he suddenly starts exhibiting, making for a stunning final scene. Is it in his head or does it really happen? Does it even matter?
Birdman is a satire of the all-encompassing behemoth of Phase 4 of the MCU that somehow came out during Phase 2. It completely predicted the cult of personality around these heroes and the actors who play them, and how that meshes with an actor's idea of themself as an artist. Not only should Birdman be considered a superhero movie, but it should also be considered one superhero movies of the best of all time.
Birdman is now streaming on HBO Max.