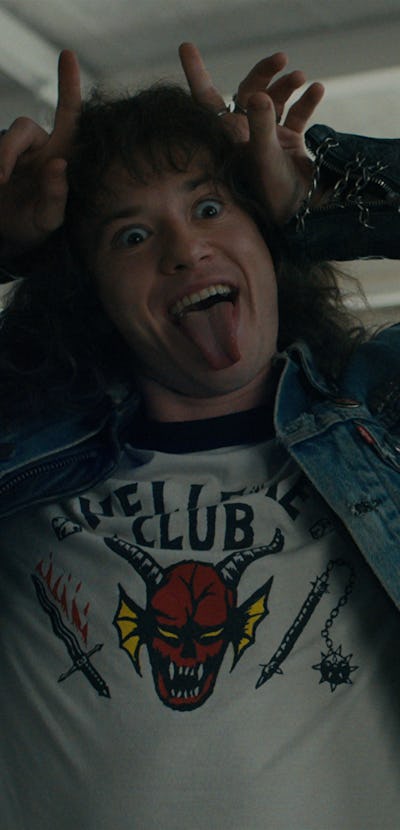 Netflix
"The whole thing's just funny."
How Joseph Quinn became the (dungeon) master of 'Stranger Things'
Joseph Quinn may be a newcomer to the Stranger Things gang, but he's clearly made some good friends.
Halfway through our Zoom interview, castmate Charlie Heaton, who plays Jonathan Byers, calls Quinn. It causes the 29-year-old actor to accidentally leave the interview, his smiling face disappearing momentarily before returning to talk about how joining the Netflix sci-fi spectacular has been a little stressful.
Until now, Quinn has found it difficult to discuss the show's fourth and penultimate season without accidentally giving away details that can travel around the Internet in minutes.
"This is probably going to be a lot easier," Quinn tells Inverse, feeling a bit freer knowing people will have seen the first seven episodes already. "It's been talking about things without being able to say anything, which has been kind of hard."
Boasting a leather jacket and perhaps the biggest hair in the cast — no small feat, given the presence of Joe Keery — Quinn plays Eddie Munson, the charismatic metalhead leader of Hellfire, the much-mocked Dungeons & Dragons club at Hawkins High. Spoilers ahead.
When Chrissy Cunningham, a cheerleader experiencing distressing visions, is found dead in particularly gruesome circumstances, Eddie is the prime suspect. She was in his trailer taking drugs when her eyeballs rolled back and Vecna, a new villain, snapped most of her bones. (This season of the show is scarier than ever before.) While we know Eddie is innocent, the Hawkins jocks, who already think of him as a freak, are ready to hunt him down. But Eddie doesn't have to face them alone; he finds friendship, solidarity, and protection with the gang of Hawkins kids at the center of Stranger Things' drama.
Coming to the Netflix behemoth as a newcomer was an odd but "lovely" experience for Quinn. The Stranger Things 4 breakout star reveals how he nailed his American accent, what it was like filming those intense horror scenes, and if he will return for the fifth and final season.
Quinn first saw Stranger Things a couple of days after the first season came out in 2016, around the same time that the actor starred in the BBC show Dickensian. Quinn was a fan of the Netflix supernatural drama.
"I remember it just catching fire," Quinn says. "I went and watched it and thought it was brilliant and charming and different."
Several years later, after starring in other BBC shows, including Strike: Lethal White, and Les Miserables, he got an email about a Stranger Things audition. He submitted two tapes, met the twin Duffer brothers (Matt and Ross), and was offered the part.
"It was very disarming, the fact that they just offered it to me, and made me increasingly paranoid throughout the whole job that they were going to think that they'd made a mistake," he says.
He needn't have worried. Eddie Munson has immediately become a fan favorite, thanks to Quinn's charismatic performance and the character's passionate commitment to walking his own path.
Like Heaton and Millie Bobby Brown, Quinn is an English actor pulling off an American accent. He says this was the hardest part, describing it as "doing this voice that doesn't feel normal in your mouth." Unlike Renée Zellwegger on Bridget Jones's Diary, he didn't pretend to be American once the directors said, "Cut!" But for around a week before his next scenes, he would try to "stay in accent" by going to restaurants and speaking like an American, for example. This may have been good for his craft, but he says, "you just feel like a sociopath."
"I just feel like an idiot," he adds. "But you kind of have to do it. There's no way around it."
Surprisingly, nailing the accent was almost as diverting as filming the intense, harrowing sequences in which Eddie watches Vecna possess and mutilate Chrissy.
"The really grotesque body-snapping doesn't feel that intense when you're doing it," Quinn says. "Because it's very practical. There's lots of breaks; there's people in harnesses looking forlorn and uncomfortable, and it's just funny. The whole thing's just funny."
The experience of filming the show, Quinn immediately noted, was "a lovely, warm, crazy environment." The closeness between the cast members was apparent from its humble start. His younger castmates — some of whom were 12 when the show began — are protective of and kind to each other on set because they are "very enmeshed in a beautiful way as a result of this crazy kind of washing machine fame that happened to them all," he says.
Between the cast's bond and the show's epic scope, the set does feel different from others. Quinn says it felt important, adding, "It felt like this season was incredibly ambitious and was really reaching for something kind of extraordinary." That was in no small part due to the Duffer brothers, who are "clearly visionaries," he says.
"They're nerds with a big budget."
"It's very surreal working with two people that have such a real connection that they can communicate with little to no words," Quinn says, staggered by the number of plates they were able to spin. "It's a big show. There was a lot of money involved, but they were just so kind and they had time for you and [were] excited a lot of the time. They're just nerds. They're nerds with a big budget. And that's a nice thing to be near."
The Stranger Things budget has been the source of controversy, with each of this season's episodes costing an alleged $30 million. Quinn mentions various sequences that indicate where some of this money could have gone.
At the beginning of Episode 7, there's a battle against "a bunch of pesky flying things," which is predominantly CGI, with Quinn and his co-stars swatting at imaginary creatures for a long period of time. Then there are sequences shot over a week in an enormous water tank surrounded by a blue screen.
"One minute, we're in this big tanker, doing some stuff in there; then we're in a wood; then we're in this enormous studio. Every place we would go would surpass the last place in terms of its grandeur," Quinn explains. What was wonderful, he says, was seeing that this was still a novelty for the actors who have been in the show for so long.
Stranger Things is a show that can clearly change the lives of the people in it, and it seems as though Quinn will be a perfect example. Fan reaction to his character has been so impassioned that there would probably be an outcry if he failed to return for the show's fifth and final outing. In an unprecedented move for the series, Season 4 was split into two parts. Volume 1, which contains the first seven episodes, was released on May 27, 2022. Volume 2, the final half of Season 4, will only contain two episodes and premieres on Netflix weeks later on July 1.
While what happens in Volume 2 is still unknown, it sounds like Eddie may make it alive out of Season 4, meaning Quinn's inclusion in Season 5 might be guaranteed. When Quinn mentions he was unable to film any scenes with Charlie Heaton in the latest installment because Eddie and Jonathan don't overlap, he says, "We're pushing for it for next season."
Beyond Stranger Things, Quinn has just finished filming Hoard, a British independent film directed by Luna Carmoon. When asked how he's going to cope with his face becoming a lot more recognizable now that millions of people have seen it up close on Netflix, he isn't quite sure what to say. It doesn't seem as though preparing people for the fan reactions is necessarily an integral part of the Netflix training.
What he does say turns out to be quietly sweet: "Life will stay the same, but I will have been in something that people love. That's a lovely thing."
Stranger Things 4 Volume 1 is now streaming on Netflix.