Star Wars Casting Rumor Brings Back a Formidable Mandalorian Villain
Ahsoka may be borrowing as much from Mandalorian as it is from Clone Wars and Rebels.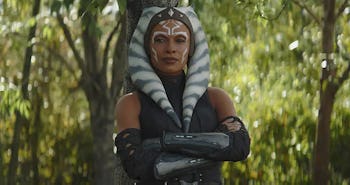 Lucasfilm
Ahsoka is the next Star Wars live-action series on the Disney+ docket, but there's still precious little released around it. Thankfully, Star Wars Celebration is just around the corner so there's hope for some more information in the future, but as of now, we know the series will star Rosario Dawson as Ahsoka Tano and Natasha Liu Bordizzo as Sabine Wren as they look for Ezra Bridger, played by Eman Esfandi.
But could there be a Mandalorian guest star on board too, one who could serve in a key villainous role for none other than Grand Admiral Thrawn?
Star Wars leaker Making Star Wars claims that the key to including Grand Admiral Thrawn is hiding in plain sight. The leak claims Ahsoka is divided into two parts — the first part covering Ahsoka and Sabine's story up until the present moment, and the second half covering their search for Ezra Bridger.
But most importantly, the leak claims The Mandalorian character Morgan Elsbeth is in the entire season. This means the magistrate will serve a role in both Ahsoka's past and future. Rumors claim that Elsbeth wasn't just settled into a quiet life on Corvis, but is actually working to rescue Grand Admiral Thrawn and revive what's left of the Empire.
Though Elsbeth was featured heavily in Chapter 13 of The Mandalorian, we don't know much about her at all. There are hints that she may be a Nightsister, the Dathomiran mystical matriarchal sect we saw in The Clone Wars and Fallen Order. This could make her a much more worthy villain to a Force user like Ahsoka — she's a magic user with a vendetta.
It's all-but-confirmed that Ahsoka will feature the live-action debut of Grand Admiral Thrawn, but there's no way that he will be introduced at the start of the series. Not only would that be too great a reveal for the end of the series, Thrawn was lost alongside Ezra — you can't really bring one back without the other.
Allowing Morgan Elsbeth to become a secondary antagonist working, just like Ahsoka, to rescue a former ally, would be the perfect way to introduce the Thrawn threat without introducing Thrawn himself.
Ahsoka is scheduled to be released in 2023.