With Another Classic Character Recast, Star Trek Is Just One Step Away From a TOS Reboot
Beam us up... you-know-who!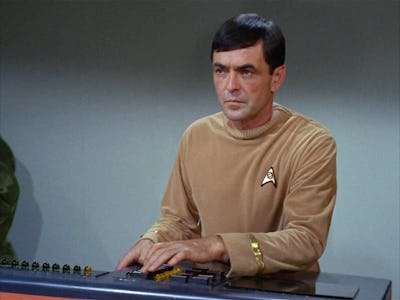 Scotty in "Where No Man Has Gone Before."
The Inverse Interview
We may receive a portion of sales if you purchase a product through a link in this article.
The only person you ever want beaming you up in the Star Trek canon is back, and he's got a brand-new origin story. In the Star Trek: Strange New Worlds Season 2 finale, "Hegemony," the series has dropped the surprising appearance of Lt. Montgomery Scott, better known as the legendary Starfleet engineer, "Scotty."
Now, with a third actor is taking over the mantle of Scotty in this appearance, we technically have a new origin story of the classic character first originated by the late James Doohan in Star Trek: The Original Series. Here's what to know about the new Scotty, how he fits into the larger Trek timeline, and what to expect from him in Season 3.
Who plays Scotty on Strange New Worlds?
Although not teased or hinted at in any promotional materials prior to this season dropping, Strange New Worlds Season 2, Episode 10, reveals that actor Martin Quinn is playing Scotty in the 2260 timeframe of Strange New Worlds. Quinn is a Scottish actor (appropriate for playing Scotty) who has appeared in the series Derry Girls, the film Our Ladies, and in 2014, appeared in a stage production of Let the Right One In.
Quinn is the third actor to play Scotty in terms of the official Star Trek canon, following James Doohan from The Original Series and all the classic films, and Simon Pegg, who played Scotty in all three reboot movies from 2009 to 2016. (If we count unofficial fan productions, Chris Doohan, son of James Doohan also played Scotty in the fan series Star Trek Continues.)
Scotty's Star Trek timeline explained
Uniquely, Martin Quinn's Scotty gives us a version of the character at his earliest point glimpsed so far in the Prime Timeline. Prior to "Hegemony," Scotty's first canonical appearance in the primary timeline was in the 1965 second pilot episode "Where No Man Has Gone Before," which happens in 2265. The current SNW season is happening in 2260, so we're actually just five years before the big "five-year-mission" of the classic show. And though Scotty was alluded to in Discovery Season 1, and we heard Scotty's voice in an alternate timeline in the Strange New Worlds episode "The Quality of Mercy," Scotty beaming onto a new Star Trek show, in the flesh, is a huge deal.
SNW is also giving us a new origin story of how Scotty got to the Enterprise. And, interestingly, just like Simon Pegg's Scotty in the Kelvinverse timeline, the crew encounters him basically by accident, after he's been stranded on a planet. In "Hegemony," we learn Scotty was a member of the crew of the Stardiver before it was attacked by the Gorn. In this episode, we actually see Scotty's shuttle crashing on Parnassus B at the very beginning of the episode, way before we see Scotty. When Captain Batel and the crew of the Cayuga wonder if the crashing shuttle is "one of ours," the answer is: that's Scotty!
Will Scotty appear in Strange New Worlds Season 3?
As most Trek fans are probably aware, Scotty is destined to become the Chief Engineer of the USS Enterprise sometime before 2265. So far, SNW has featured two Enterprise chief engineers — Hemmer (Bruce Horak) in Season 1, and Pelia (Carol Kane) in Season 2. Since "The Broken Circle," Pelia seems to be serving as a temporary chief engineer for the Enterprise, and now, in "Hegemony" we learn that Scotty was one of her best students.
In fact, Pelia now, retroactively, is the first person chronologically to use the nickname "Scotty" to describe Mr. Scott. So, will Scotty be a part of Season 3? When Inverse spoke to showrunners Akiva Goldsman and Henry Alonso Myers, they made it clear that was a big yes.
"You will see more of Scotty in Season 3," Myers said. "That's all I can say for now."
TOS reboot coming to SNW?
With the introduction of Scotty, Strange New Worlds now has five of the eight regular, or semi-regular characters from The Original Series. Not counting Dr. M'Benga (who only appeared in two TOS) episodes, SNW has James T. Kirk (Paul Wesley), Nyota Uhura (Celia Rose Gooding), Spock (Ethan Peck), Christine Chapel (Jess Bush), and now, Montgomery Scott (Martin Quinn.) Because Dr. Leonard "Bones" McCoy doesn't appear in "Where No Man Has Gone Before," and Chekov didn't start appearing until TOS Season 2, right now Strange New Worlds really only needs Sulu to give us a fully recast version of the earliest days of TOS.
Could some future season of SNW actually just feature the classic crew under the command of Kirk? Because there are various plot-based exits set up for Pike, M'Benga, Pelia, and Number One, it's possible that at some point, we could get a Kirk-led Enterprise on Strange New Worlds in the year 2264, 2265, or maybe even earlier. At the start of Season 2, Akiva Goldsman said: "The closer we get, we have to start to resemble The Original Series."
The point where TOS and SNW start to overlap is still five years away in terms of the Star Trek canon, but now that Scotty had beamed himself up, that crossover between the current era and the classic era feels closer than ever.
Star Trek: Strange New Worlds Season 2 streams on Paramount+.