Star Trek's Most Shocking New Character Could Change Canon — If She Wants To
In Strange New Worlds Season 2, Carol Kane's Pelia has a big secret — and the Trek timeline will never be the same.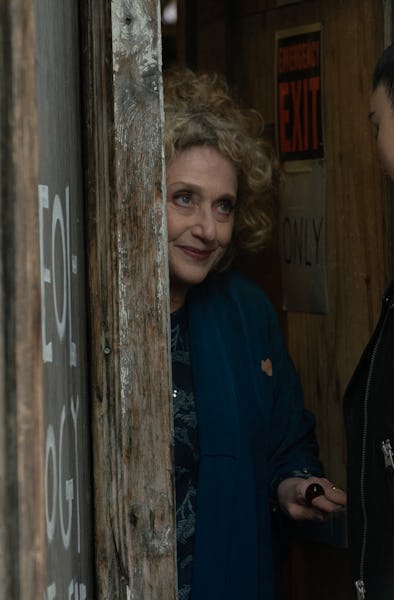 The Inverse Interview
We may receive a portion of sales if you purchase a product through a link in this article.
Comedy legend Carol Kane never expected to get the call to be in Star Trek. But, as revealed in the season 2 premiere of Strange New Worlds — "The Broken Circle" — her character, Pelia, has suddenly cemented herself into the franchise for a very, very long time.
Here's what Carol Kane says about getting part of the latest Enterprise Chief Engineer, what she added to the role, and why she never even realized the implications of the character's backstory. Spoilers ahead for Strange New Worlds, "The Broken Circle."
"Okay, so I didn't audition," Carol Kane tells Inverse. "I was called. And I was shocked. I was stunned. Never in my life did I imagine myself on Star Trek." In the context of the show, the famous actress — whether you remember her from The Princess Bride or Kimmy Schmidt — brings charming off-kilter energy to the Trek ethos, in a way no character has done before.
But, she oddly has big Starfleet boots to fill. Following the death of Chief Engineer Hemmer (Bruce Horak) in Season 1, the Enterprise needs a new person to watch over the warp engines — and the time of Scotty is not yet upon us. Enter, Pelia, a woman who appears human, but is really a centuries-old Lanthanite. After Uhura (Celia Rose Gooding) identifies the accent, Spock and the crew realize the new ad-hoc Chief Engineer of the Enterprise possesses memories of Starfleet that predate all their lives and the Federation itself. And when faced with the prospect of helping Spock (Ethan Peck) steal the Enterprise, Pelia is hilariously ecstatic.
Kane plays all of this with flourishes of whimsical, absent-minded indifference, which, might be because her Star Trek knowledge was close to zero when she was hired.
"I must admit — and I told the writers and producers right away that I really hadn't seen any Star Trek," Kane says frankly. "But they kinda liked that idea! They liked the fact that I was coming to it fresh and now, and I like it too. I'm certain I'm learning. The jargon is not easy. It's good for the brain because it's like a crossword puzzle in some ways."
Although Kane maintains much of the character's quirkiness was simply written that way by the Strange New Worlds team, she did convince showrunners Akiva Goldsman and Henry Alonso Myers to let her give Pelia a unique accent. And it's this accent which tips off Uhura about her true identity as a hitherto undisclosed nearly immortal alien race.
"I'm so grateful to them for allowing me to do it because it was a leap for them," Kane reveals. "The accent. That wasn't written. But they said, 'Go ahead.' It frees me up a lot and they could have gone much safer and just said, no. And that would've been okay, but it wouldn't have been nearly as much fun for me. And therefore, not nearly as much fun for the audience, I think."
For fans who are thinking about how Strange New Worlds fits into the larger timeline of the entire canvas of the whole Star Trek story, Pelia is something of a game-changer. Because she's been alive for hundreds of years, it means she's suddenly in the backstory of Enterprise, but, also, that she could potentially be around in any Trek series, at any time. Is Pelia alive in Picard's time? What about Discovery's 32nd century? Could Carol Kane now become one of a handful of characters who could appear in any Star Trek, forever? Would she be up for those crossovers?
"Oh, I hadn't thought about that!" Kane says with glee. "But, I love the idea. That's fantastic."
Star Trek: Strange New Worlds is streaming on Paramount+.