53 years later, Star Trek rebooted the miniskirt uniform — with a gender-neutral twist
Strange New Worlds costume designer Bernadette Croft reveals the details of all the new Trek threads.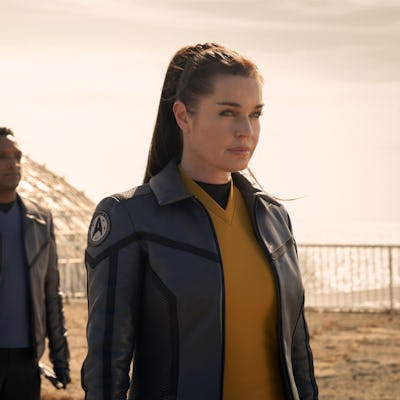 For the very first time, Star Trek actors get to choose their uniforms.
Strange New Worlds offers clothing options to the crew of the USS Enterprise — unlike any series in the franchise before.
"We thought it would be great to have a closet and have it not be so strict," costume designer Bernadette Croft tells Inverse.
Just after Strange New Worlds debuted its first episode, Inverse spoke at length to Croft about the eye-popping costumes of the new Trek series — including those slick away team jackets, its Discovery connections, and exactly how and why the show brought back a gender-neutral variant of the classic show's famous miniskirt.
Spoilers ahead for Strange New Worlds through Episode 3, "Ghosts of Illyria."
"A retrofuturistic look"
Although the costumes of Strange New Worlds look and feel like they belong in a contemporary, big-budget science fiction show, it was important for Bernadette Croft and her team to get as close to the 1960s feel — and the concepts of The Original Series designer William Ware Theiss — as they possibly could. This means a lot of bright colors have returned. For example, Dr. M'Benga (Babs Olusanmokun) rocks a medical blue color, which Croft says is 100 percent influenced by what "Bones wore on TOS."
But there was also Discovery Season 2 to consider, the series which Strange New Worlds directly follows.
"We needed a retro-futuristic look combined with design elements from shows like Discovery," Croft says. "It was a bit of a design challenge to link them up."
A mix of Discovery-era uniforms and the forerunner to the Strange New Worlds uniforms in Discovery Season 2 in 2019.

CBS/Paramount+
The spacesuit design for Strange New Worlds is a fusion of a design from The Original Series and Discovery. Jess Bush's medical jumpsuit is very similar to the Discovery design.

CBS/Paramount+
Previously, Croft worked under Discovery costume designer Gersha Phillips in Season 1 and Season 3 and was "passed the phaser" for Strange New Worlds, although Phillips and Croft "co-designed" the first episode.
"We brought some of the key features from Discovery, I think, to make sure the continuity is on our side," Croft explains, noting that Nurse Chapel (Jess Bush) wears an all-white medical jumpsuit reminiscent of Dr. Culber's (Wilson Cruz) uniform in the first three seasons of Discovery.
"The Discovery influence comes from the silhouette. Those shoulders are strong. So, we kept that but with a more casual TOS vibe." Croft notes that the overall effect is a "mix" and says, "We might have the silhouette of the 1960s dress, but because of the fabric, it gets a retro-futuristic look. Certain characters really lean into the 1960s aesthetic. And then some are a little bit edgier."
"The tunic is for every gender"
One character that leans into that retrofuturism is the first officer of the USS Enterprise, Unu-Chin Riley, aka Number One, played by the indomitable Rebecca Romijn. And through Romijn's intercession, Strange New Worlds got a variant of the 1960s "miniskirt" uniform, made famous — or infamous — by The Original Series. Because TOS went off the air in 1969, it's been 53 years since we've seen the classic miniskirt uniform in Trek's "Prime Universe," outside of the alternate timeline in the J.J. Abrams reboot movies. (Although Nhan did wear a "skant" uniform briefly in Discovery Season 2, in 2019, though not in the TOS design.)
Croft says that for Strange New Worlds, Romijn fought to make sure the old-school miniskirt was updated in a tasteful — and gender-neutral — way.
"That was definitely Rebecca Romijn's idea. We originally thought it would be all unisex, just the top and the pants. But let's not do those tiny, tiny dresses. We wanted to avoid that over-sexualization. But then Rebecca was like: 'You can make it look badass, and you can fight, you can do whatever you need to do in a dress.' And we were like, yes, you absolutely can! And that's why you can wear leggings or pants underneath. It still looks dignified, and you know, it's still uniform. Thank goodness Rebecca brought that up."
Back in 1987, during the first season of The Next Generation, a similar gender-neutral "skirt-pant" uniform was introduced, worn by crew members of all genders. (Although, it was mostly seen on background characters.) Croft says that's true of the tunics on Strange New Worlds, noting that we will see a male "day player, wearing the tunic in a future episode" because "the tunic is for every gender."
And while Spock doesn't wear the new tunic in this season of Strange New Worlds, Croft says, "I know Ethan is interested [in wearing the tunic]. It's totally up to our actors to decide."
"A wild inspiration"
In addition to the tunic variant, Croft also introduced a new Starfleet away team jacket. First seen in episode 3, "Ghosts of Illyria," the silver-grey jacket is arguably the coolest piece of Trek clothing to come along in several years. Fans will note that a round patch on the shoulder is evocative of Kirk's landing party jacket from The Wrath of Khan, while the overall style is an intentional homage to the jackets from "The Cage."
"With the jackets from 'The Cage,' I just thought that they were a little boxy and a little cumbersome," Croft says. "For our versions, I looked at the 1960s bomber jacket. We made grey leather jackets, with a bit of polytechnic and microprint. They're effortlessly cool. You can fight some aliens wearing it, but you can wear it to a bar, too."
The jackets made their debut at the Star Trek Mission Chicago convention in April 2022. And Croft reveals that she and her team attempted to go undercover as fan cosplayers at the convention.
"We were found out straight away," Croft says with a laugh. "We had made up all those cover stories and were going to enter the cosplay competition. But we couldn't fool them for a second. They swarmed us."
Because only the first three episodes of Strange New Worlds have aired (as of this writing), Croft admits there are a lot of upcoming costume designs that will be "very exciting" for fans. Without giving away any spoilers, let's just say if you're a fan of some of the other shirts Kirk wore in The Original Series, you might be surprised by what you see in future episodes. On top of that, Croft teases that her team "just did a cool redesign for one alien species" for Strange New Worlds. But she can't reveal if that's happening in Season 1 or 2.
"You can fight some aliens wearing it, but you can wear it to a bar, too."
For now, the clothes of Strange New Worlds — and the rest of the new Trek shows — reflect a blend of nostalgia and contemporary style in a way the previous series never have. Croft and Gersha Phillips are influenced by everything from modern high fashion to Alexander McQueen and beyond. And Croft says that she looks to the work of other Trek costume designers, like Christine Bieselin Clark's work on Star Trek: Picard. It's a big, expanding final frontier, and Croft is happy to be a part of it and remains in awe of the colorful, over-the-top costume designs from the '60s that started it all.
"William Theiss's costumes on The Original Series are such a wild inspiration to me every day," Croft says. "It's amazing to have it as a jumping-off point. We look at TOS all the time and say, 'How can we do our version of this.' I don't know how they did half of that stuff. It's amazing."
Star Trek: Strange New Worlds airs new episodes on Thursdays on Paramount+