Spider-Man Into the Spider-Verse's Coolest Character is Getting a Live-Action Series
Spidey returns to the screen in a superhero period drama.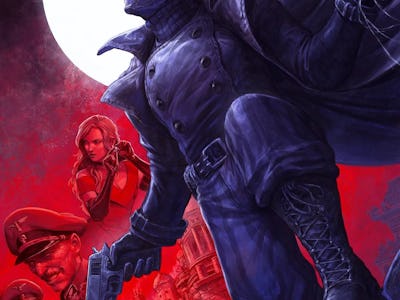 If Tom Holland's youthful MCU Spider-Man and the animated antics of the Spider-Verse aren't providing enough web-slinging action for you, another brand of spidey-sense will tingle in live-action... though not in a way fans expected.
A Spider-Man Noir series is currently being developed at Amazon, with Sony Pictures Television as its production studio. Variety learned that the show will follow an "older, grizzled superhero in 1930s New York City." It will be the first live-action iteration of the noir Spider-Man variant, who had previously only appeared as an animated character in Ultimate Spider-Man and Into the Spider-Verse.
Spider-Man Noir was created by writers David Hine and Fabrice Sapolsky, and designed by artists Carmine Di Giandomenico and Marko Djurdjevic. In the comics, he's a version of Peter Parker who lives in New York during the Great Depression and fights the forces of Nazi Germany even before the United States enters World War II. Parker becomes Spider-Man Noir after being granted superpowers by a spider-god, and familiar Spider-Man villains like Norman Osborn also appear.
The Spider-Man Noir Amazon series, however, will be set in its own universe — so, completely separate from the MCU — and the main character will not be Peter Parker, per Variety's sources. It's still unknown if the show will be set in Sony's established Marvel-verse timeline, or if any of the characters from previous Marvel films helmed by Sony (such as Morbius and Venom) will appear. Sony currently holds the rights to large swathes of the Spider-Man franchise, so the possibilities of cameos and team-ups are endless.
The Amazon series will be written and executive produced by Oren Uziel (Mortal Kombat), who will develop the show alongside Spider-Man: Into the Spider-Verse producers Phil Lord and Christopher Miller. Into the Spider-Verse won an Academy Award for Best Animated Film in 2019 and has two sequels en route, so there's a pedigree here.
The untitled show is the second known TV project based on the Sony-controlled Marvel characters in development at Amazon. Last November, Amazon announced that a series called Silk: Spider Society was in the works from showrunner and The Walking Dead alum Angela Kang. It follows Cindy Moon, a Korean-American woman bitten by the same busy spider that bit Peter Parker. Sony also has a third Venom film in development, as well as the Marvel movies Kraven the Hunter and Madame Web, slated for respective releases in October 2023 and February 2024. It's still unclear when the Spider-Man Noir series will drop on Amazon.