Spider-Man: No Way Home Easter Egg Reveals a Shocking Cameo We Missed
The Brazilian dub teases a familiar Spider-Man variant may already be in the MCU.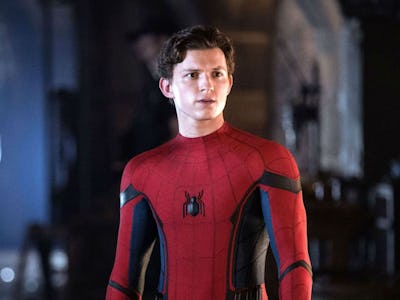 Marvel Studios
Spider-Man: No Way Home will go down in history for its sheer magnitude of cameos alone. The entire plot revolved around the appearance of Tobey Maguire and Andrew Garfield as Spider-Man variants, a reveal that was kept under lock and key up until release (despite numerous leaks). On top of that, MCU-adjacent characters like Matt Murdock and Eddie Brock appeared in bit roles, adding to an already overstuffed movie.
But in the last seconds of the movie, we may have accidentally had a fourth Spider-Man variant revealed, but one that nobody noticed at the time — until now.
Brazilian Marvel fan and Twitter user @luksvader posted a scene from the digital release of Spider-Man: No Way Home, showing a now-forgotten Peter Parker as he moves into his crummy new apartment at the end of the movie. But instead of the original English captions which only transcribe the dialogue of Peter and his landlord, the Brazilian captions pick up a lot more, including background voices named "Jeff" and "Rio" telling someone named Miles to clean his room.
"Jeff" and "Rio" just happen to be the names of Miles Morales' parents, the Spider-Man who serves as the protagonist of Sony's Spider-Verse movies. Could this be an Easter egg reveal that Miles Morales will appear in the MCU's next Spider-Man movie?
This is even more exciting with Variety's report that Spider-Man: Across the Spider-Verse producers have confirmed that Miles Morales will be entering live-action and that a fourth mainline Spider-Man movie is still in the works. If variants like Andrew Garfield and Tobey Maguire can enter the MCU, who's to say a future Miles Morales can't do the same?
Famously, Spider-Man: Homecoming also teased the arrival of Miles Morales through Donald Glover's character, who referenced a new phew that fans assumed was the Spider-Verse star.
Miles Morales is almost eclipsing Peter Parker in recognizability right now: on top of two ground-breaking animated films, he's also got his own video game. Into the Spider-Verse did multiple Spider-Man identities at once before No Way Home. A crossover between the two almost feels inevitable.
Now, we may have proof that it's been in the works for years.
Spider-Man: Across the Spider-Verse is now in theaters.