Sissy Spacek explains Amazon's Night Sky's sci-fi mysteries and Season 2 hopes
After decades of acting, Spacek is going to the final frontier.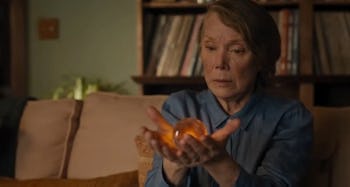 Amazon's Night Sky is the latest sci-fi series trying to strike supernatural gold.
Created by Holden Miller (The Nightly Show with Larry Wilmore), Night Sky is an engaging meditation on mortality, marriage, and our need to maintain a sense of wonder as we ponder life's greatest puzzles.
Academy Award winners Sissy Spacek (Carrie, Coal Miner's Daughter) and J.K. Simmons (Spider-Man, Whiplash) play mild-mannered seniors Irene and Franklin York, an Illinois couple whose garden shed's basement inexplicably contains a bizarre portal that transports them to an abandoned alien lookout on a barren planet.
As Irene and Frank slowly attempt to learn more, curious neighbors and relatives become suspicious of their nighttime ritual. Their otherworldly lookout post soon becomes the catalyst for an international riddle involving a host of nefarious characters and a network of ancient portals.
"When I first read the scripts I thought it was Scenes From A Marriage with space travel."
With all eight episodes arriving on Friday, May 20, Inverse chatted with Spacek on the eve of Night Sky's debut to learn about crafting the character of Irene York, possibly taking a real-life voyage to space, and where the sci-fi series might be headed after its intriguing launch.
The following conversation has been edited for clarity and brevity.
Inverse: After 50 years in Hollywood, what attracted you to your first science fiction project?
Sissy Spacek: You know, I do things like this sometimes. I am the girl who made Carrie. There's that side of me that goes, "Don't look before you leap." I loved the writers and creators of the show. They were very collaborative. But what really drew me to it was the relationship between Irene and Franklin, and the fact that I wasn't an alien. I worried that I wasn't going to understand and wondered what in my life was going to help me play this role. But Irene's just an ordinary human being experiencing extraordinary things.
What did you draw from in creating the charming character of Irene York?
Well, I live in a small town on a farm, and I've been in a half-century relationship. So I understood that and I knew there was a deep love between these two people, but occasionally she wanted to bop his head.
As interest in space travel and space tourism ramps up around the world, have you daydreamed about taking a trip into orbit if offered the chance?
I don't know. I don't think so. I think there was a time when I would have. But as an older person, I've learned that the secrets of the universe aren't out there, they're inside ourselves. I'm probably a little bit more like J.K. Simmons' Franklin, but I'm fascinated by the universe and think of it in a more spiritual way than just the mechanics of getting inside a spaceship. But since it was in my backyard, I thought why not?
"I knew there was a deep love between these two people, but occasionally she wanted to bop his head."
How do Night Sky's themes of love and life speak to viewers of all ages?
I think it will affect different people differently depending on their own experiences and what their lives are like. When I first read the scripts I thought it was Scenes From A Marriage with space travel. One of the nicest things about it is that incongruous nature of it, but it also all fits together and there's an innocence about them. I think about how many people who study space that would have benefitted far more from having found that thing in their backyard.
Season 1 ends with cliffhangers and conspiracies. Where do you think the storyline might go from here if it gets renewed for a second season?
I sometimes lay in bed at night thinking 'where will this go?' At this point, I have no idea. Will it start from right where we left off, or will there be a time jump? I've racked my brain to figure out what it could be. I just hope we find a way to make it all mean something bigger.
Night Sky premieres May 20, 2022 on Amazon Prime Video.