Is There Space for Shrek 5 in Today's Post-Spider-Verse Animation Industry?
Puss In Boots: The Last Wish tapped into the demand for more experimental, earnest animation. Can another Shrek sequel keep up?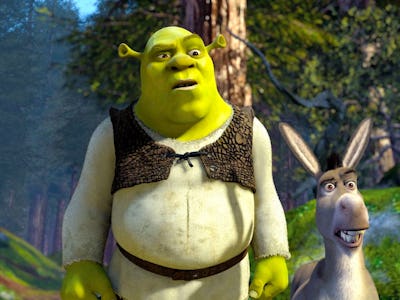 DreamWorks Animation
The legacy of Shrek is not something Hollywood can easily forget. DreamWork's departure from traditional animation is, for better or worse, embedded in the public zeitgeist. It was a cultural unicorn: a public challenge to the empire that Disney Animation was fighting hard to defend in late '90s, and a family-friendly film that catered to adults as much as kids. And though the legacy of the titular ogre has since been overshadowed by his status as a meme, it clearly makes more sense to keep churning out sequels whenever possible.
DreamWorks had conceived of Shrek as a five-picture deal from the very beginning. Since 2001, they've managed to produce four (not including two spin-offs and myriad television specials), but a declining interest in the films may have hobbled plans for that fifth. The franchise went out with a whimper after Shrek Forever After in 2010. Though DreamWorks did push out a spinoff, Puss in Boots, the following year, the story of Shrek had long run out of steam. For all the first film had done to invigorate the animation industry, the franchise had failed to evolve with it. That is, until 2022.
Though Puss In Boots: The Last Wish is technically the sequel to a spin-off, it feels more like its own property than it has any right to. It's the first Shrek-related film to come out in over a decade, which certainly puts some distance between it and its less-than-memorable predecessors. But it's also a perfect example of all that can go right when an old dog — or in this case, a cat — learns a new trick. The Last Wish builds on the gorgeous, amalgamated style that Sony's Spider-Man: Into the Spider-Verse canonized in 2018. More than that, it also forgoes a lot of the glib irreverence that informs the other Shrek films. The result: a genuinely earnest celebration of the medium, and a story that stands out in a major way.
Naturally, The Last Wish made sure to leave the door open for another Shrek sequel — and after the success of the spinoff, DreamWorks is confident that Shrek 5 will be well-received. According to Chris Meledandri, creative partner and CEO of Illumination Entertainment, there may be a Shrek "reboot" on the horizon. There's clearly a demand within the ranks, as the original cast is in talks to return. Eddie Murphy has even inquired into a spin-off for his own character, Donkey. But is that quite the same thing as public demand?
The Inverse Analysis — Shrek was a potent trailblazer in its own right: it effectively disrupted the fairytale formula that Disney had monopolized for 70 years. Combined with the sharp sarcasm of the era, it remolded modern storytelling in its own derivative image. But the style that was once gutsy and groundbreaking is now the status quo.
The pendulum has swung back around; audiences are hungry for sincerity, as well as artistry, again. The Last Wish was so successful because it was so different from Shrek. If the franchise wants to survive, it'll have to find a way to evolve in kind.