How Long Was Rhodey a Skrull? Director Confirms a Shocking MCU Theory
War Machine has a lot to catch up on after Secret Invasion.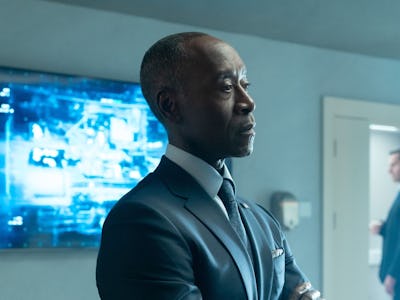 Marvel Studios
After the shocking events of the Secret Invasion finale, fans were left with many questions. Is G'iah the most powerful being in the MCU now? How is President Ritson going to lose his job to Captain America: Brave New World's President Ross? But the biggest mystery is definitely, "Wait, just how long has Rhodey been a Skrull?"
While it was obvious he was a Skrull since Episode 2, how long he hasn't been the real Rhodey is up for debate. It seemed like the answer was settled when fans noticed the hospital gown we see the real Rhodey in when he's rescued matches the one he was wearing in Captain America: Civil War, which would explain why he was having trouble walking after G'iah saves him. But does that mean the Rhodey we saw in Endgame, the Rhodey we saw mourning his best friend Tony Stark, was actually a Skrull in disguise? If so, Gravik had been planning his coup for quite a long time.
Secret Invasion director Ali Selim confirmed just that in an interview with ComicBook. "A lot of people have asked," he said. "I think his legs not working in the end of episode six and him being in the hospital gown points to [Captain America: Civil War]. And, from there, does it have to be definitive, or is it more fun for the audience to go back and revisit every moment, every Rhodey moment and look at it with a different lens now that they think, 'Oh, he might've been a Skrull there.' And make the decision for themselves, or it'll be answered in Armor Wars."
So if you're the kind of fan that likes an authoritative answer to settle fan disputes, then the official word, for now, is that Rhodes has been a Skrull since Civil War. But if you're someone who likes to craft your own theories, you can simply believe that, say, Rhodey went in for additional surgery before The Falcon and the Winter Soldier, and that's where he got swapped. Either way, the upcoming Armor Wars movie will apparently tell us everything we need to know about Rhodey's captivity.
Secret Invasion is streaming on Disney+.