Scream 7 Confirmed? Possible Release Dates, Cast, Plot, and Director for the Slasher Sequel
Do you like scary movies?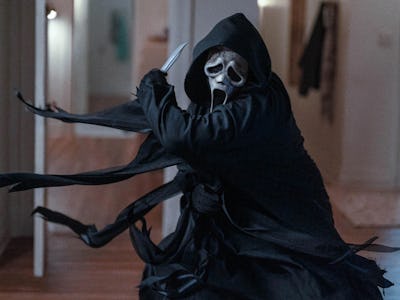 It's been 27 years since Ghostface first took a kitchen knife to the horror genre in Scream, and three decades later, he's still one of the best scary movie villains around. After Scream 5 brought the teen-murdering icon back to life, Scream 6 doubled down on the reboot that moved the new leading cast (dubbed the "core four") to New York City. But that was months ago. So what's the deal with Scream 7?
Despite the fact that Scream 6 cracked $168.8 million at the box office (on a budget of $35 million), Scream 7 hasn't officially been confirmed. But it seems like a given that Ghostface will return again, and recent rumors could reveal yet another major shakeup coming to the beloved horror franchise.
So what's the deal with Scream 7? Grab some Jiffy Pop and your sharpest kitchen knife, and let's dive in.
Is Scream 7 confirmed?
Not yet. Paramount Pictures, which owns the rights to the Scream franchise, hasn't said anything official either way, but it's probably only a matter of time. A new report from Bloody Disgusting states that Scream 7 is "definitely in the works." For now, that's as close as we've come to anything official.
Who is the director of Scream 7?
The new era of Scream movies has been spearheaded by Matt Bettinelli-Olpin and Tyler Gillet (better known as the dynamic duo Radio Silence). However, that same Bloody Disgusting article reports that Radio Silence is tied up making an undisclosed Universal monster movie. In their place, Christopher Landon (Freaky) is apparently in talks to take over directing duties for Scream 7. Given Landon's experience in horror camp, this feels like a great fit, but nothing is confirmed just yet.
Do we know the Scream 7 Release Date?
As of right now, Scream 7 hasn't been officially greenlit, which means there's no release date just yet. It's safe to assume that Paramount is racing to make this movie as quickly as possible considering the profits from Scream 6, but between the need to change directors and the ongoing Hollywood strikes, it could be a long wait before we see Ghostface again.
Scream 6 was greenlit on February 3, 2022 and released roughly 13 months later on March 6, 2023. You can probably expect a similar timeline once things get moving on Scream 7, but when that will be depends on the studios, writers, and actors all coming to an agreement. (Or, more realistically, it depends on studio execs finally agreeing to do right by their employees and stop hoarding wealth.) Either way, it could be a long wait. But don't blame me. Blame Bob Iger.
What Will Scream 7 Be About?
As iconic as the image of Ghostface is to the franchise, the real star of Scream has always been the mystery, so predicting exactly what will happen in Scream 7 is a bit of a fool's errand. Scream 6 ends with Sam (Melissa Barrera) and Tara (Jenna Ortega) brutally executing each of the three villains this time around — all relatives of Sam's homicidal ex-boyfriend Ritchie. While the movie leaves no doubt about their fates, it does once again raise the question of Sam's psychosis, and whether or not the visions she has of her father Billy Loomis (Skeet Ulrich) will result in our Final Girl putting on the white mask next time around.
Both Scream 5 and 6 have been love letters to the movies that mirror them in the original trilogy (Scream and Scream 2 respectively), which means there's also the possibility of Scream 7 borrowing from the divisive 3rd film. It's hard to see the writers stealing Scream 3's outlandish secret-brother-revenge-plot, but considering that the Carpenter sisters haven't had their own in-universe Stab movie yet, it would be interesting to see how they deal with the sleaze and showmanship of Hollywood.
Who Will Be In the Scream 7 Cast?
The Scream franchise is one of those rare slashers where the foundational group of survivors gets to return and become fan favorites. Scream 6 preserves this tradition by keeping its Core Four alive. This means that, at the very least, we can expect to see Sam, Tara, Chad (Mason Gooding), and Mindy (Jasmin Savoy Brown) make an appearance in the next film, although the likelihood of them all making it out of the next one alive is slim-to-none.
On top of our Woodsboro survivors, Scream 6 saw the return of both Gale Weathers (Courtney Cox) and fan-favorite Kirby Reed, who hasn't been seen since Scream 4. Both of them survive the most recent installment, and while the series has reached a point where it can continue without its legacy characters, the door is always open for a triumphant return from either one of them, as well as the ever-beloved Final Girl Sidney Prescott (Neve Campbell).
Is there a trailer for Scream 7?
They haven't even started filming the movie, so nope, there's no trailer yet. But check again soon for future updates. Don't worry, we'll be right back.
This article was originally published on