Will There Be a Scream 7? Everything We Know So Far About the Slasher Sequel
Do you like scary movies?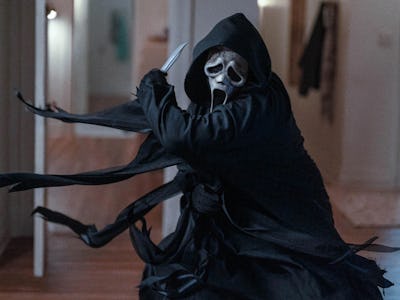 For almost 30 years now, Ghostface has been carving through the box office and bumbling into our hearts. And if there was any question whether the "meta-whodunit-slasher" franchise had lost its sting, Scream 6 has put a knife in it.
This new era of the series, spearheaded by directors Matt Bettinelli-Olpin and Tyler Gillet (better known as the dynamic duo Radio Silence), launched with a "requel" installment that felt almost too beholden to the tried-and-true formula established by franchise creator and legend Wes Craven. Scream 6, while still honoring that enormous legacy, finds some fresh ideas and a unique voice in the Big Apple, along with all the brutal kills and shocking betrayals a sadistic fan could ask for.
After cracking $116 million worldwide over the weekend, Scream 6 is well on its way to surpassing the global box office total of its predecessor. With its success practically solidified, it's impossible not to consider what's in store for the (presumptive) finale Scream 7.
What Is The Scream 7 Release Date?
As of right now, Scream 7 hasn't been officially greenlit, which means there's no release date just yet. However, fans shouldn't have to wait long for some kind of official announcement, as Scream 6 is currently still raking in cash during its second week. It's also a safe bet to assume that Radio Silence will be returning, but if they weren't for some bizarre, unforeseen reason, the filmmakers themselves are confident in the franchise's future. "We want to be watching Scream movies whether we're involved or not for the rest of our lives," Bettinellli-Olpin said to Deadline earlier this month.
However, after Scream 5 was released last year, an official announcement for its sequel came the following month, with Scream 6 arriving 14 months later. Based on this, if Scream 7 were to get a concrete announcement sometime in the next few weeks, then it could land in theaters sometime in mid-2024.
What Will Scream 7 Be About?
As iconic as the image of Ghostface is to the franchise, the real star of Scream has always been the mystery, so predicting exactly what will happen in Scream 7 is a bit of a fool's errand. Scream 6 ends with Sam (Melissa Barrera) and Tara (Jenna Ortega) brutally executing each of the three killers this time around – all relatives of Sam's homicidal ex-boyfriend Ritchie. While the movie leaves no doubt about their fates, it does once again raise the question of Sam's psychosis, and whether or not the visions she has of her father Billy Loomis (Skeet Ulrich) will result in our Final Girl putting on the white mask next time around.
Both Scream 5 and 6 have been love-letters to the movies that mirror them in the original trilogy (Scream and Scream 2 respectively), which means that there's also the possibility of Scream 7 borrowing from the divisive 3rd film. It's hard to see the writers stealing Scream 3's outlandish secret-brother-revenge-plot, but considering that the Carpenter sisters haven't had their own in-universe Stab movie yet, it would be interesting to see how they deal with the sleaze and showmanship of Hollywood.
Who Will Be In Scream 7?
The Scream franchise is one of those rare slashers where the foundational group of survivors get to return and become fan-favorites, and Scream 6 preserves this tradition by keeping their Core Four alive. This means that, at the very least, we can expect to see Sam, Tara, Chad (Mason Gooding), and Mindy (Jasmin Savoy Brown) make an appearance in the next film, although the likelihood of them all making it out of the next one alive is slim-to-none.
On top of our Woodsboro survivors, Scream 6 saw the return of both Gale Weathers (Courtney Cox) and fan-favorite Kirby Reed, who hasn't been seen since Scream 4. Both of them survive the most recent installment, and while the series has reached a point where it can continue without its legacy characters, the door is always open for a triumphant return from either one of them, as well as the ever-beloved Final Girl Sidney Prescott (Neve Campbell).