Scott Adkins' Surprising John Wick 4 Villain Was Inspired by a Bruce Lee Opponent
Longtime DTV action star Scott Adkins stars in John Wick looking unlike himself.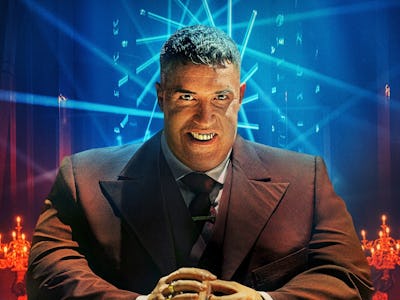 Scott Adkins has spent the better part of the last 20 years starring in the kind action movies you just don't see in theaters anymore.
As the lead of direct-to-video movies like Assassination Games, Ninja: Shadow of a Tear, Triple Threat, and sequels in the kickboxing-centric Undisputed series, Adkins' whole deal feels reminiscent of the beefcakes who ruled the VHS era. If he were born a decade earlier, Adkins would have been contemporaries with Jean Claude Van Damme, Chuck Norris, and Sylvester Stallone, to name a few.
With a chiseled bod and picture perfect roundhouse kicks, seeing Scott Adkins at work is bearing witness to one of Hollywood's undervalued commodities. But when the British action star was invited by director Chad Stahelski to star in the latest John Wick installment, John Wick: Chapter 4, Adkins was told he'd have to wear something wildly unexpected given his resume: a fat suit.
"It was the first thing Chad said to me," Adkins tells Inverse.
In John Wick: Chapter 4, Adkins throws down against Keanu Reeves in the role of "Killa," an egomaniacal German assassin with a rotund frame and a penchant for poker. Like Colin Farrell in The Batman and Brendan Fraser in The Whale, Adkins dons heavy make-up and prosthetics to inhabit a character never seen before in either John Wick's expansive universe or Adkins' Hollywood career.
"We came up with him fighting a bit like Mike Tyson: Bobbing and weaving, very powerful punches and kicks."
"It [came from] when he first watched Sammo [Hung] in Enter the Dragon, doing all these backflips," Adkins says about Stahelski's first descriptions of Killa. "That was one of the concepts he had for the character." Another major point of inspiration came from the shady Signor Ferrari, played by Sydney Greenstreet, in the 1942 classic Casablanca.
"The prosthetic side is a big thing. That was mentioned straight off the bat, and I was up for it," Adkins says. "What an opportunity to come up with a crazy character like this."
But while Adkins still maneuvers across the screen with terrifying ferocity, the role also gives Adkins space to really chew up the scene as an actor, and not just an action star. In an interview with Inverse, Scott Adkins reveals how he adapted his kickboxing fighting style to suit Killa's killer instincts, the challenges of getting into makeup every day, and what the future of action movies might look like.
This interview has been edited for clarity.
Killa is a sort of character we've never seen before in John Wick's universe. Who is this guy?
He's the head of the German table. He was a notorious, once-great assassin himself, but he's let himself go a bit. But when push comes to shove, he can still throw down. He loves the sound of his own voice and is a bit pompous. [John Wick director] Chad Stahelski said to me, "Do you want to be in John Wick 4?" He pitched this character to me. It's out from left field. But I appreciated the opportunity to create this character from the ground up and disappear [into it].
Because of the makeup and the suit, how differently does Killa move in contrast to your other work?
The process of prosthetics is its own thing. Three and a half hours in makeup, and an hour to get it off. There's fatigue that comes with that. But the action in the John Wick movies, even though it's over the top, it's quite grounded. It was important to me and Chad that we sell the weight of the suit. It's no good if it looks like I'm 13 stone doing triple kicks pretending to weigh 20. It was important that we sell the weight of the costume with the way the way I moved and the way I fought.
We came up with him fighting a bit like Mike Tyson: Bobbing and weaving, very powerful punches and kicks. We wanted to make him bullish. Big, hard, powerful blows. But no crazy somersaults or backflips, because that's not in keeping with the John Wick tone.
How did Killa's costume influence you to change your form as a martial artist, if at all?
It wasn't that bad. I could move in it. Chad, coming from stunts, said to the costume designer, "You need to make sure it can kick." I was able to do full box splits in the suit. But the weight and circumference, you're not as nimble. We just adapted my style to fit the character's.
There's a lengthy 10 minutes of dialogue between you, Keanu Reeves, Donnie Yen, and Shamier Anderson before the fighting starts. How did the role of Killa allow you to flex muscles as an actor beyond an action star?
That was the most exciting part about it for me. This is more about the acting than the fighting. I'm leading with a lot of dialogue. I was thankful that Chad trusted me to pull it off. He saw in me something that a lot of directors don't see [in me] for whatever reason. I was happy he gave me the opportunity to show I'm more than just a kickboxer. I am an actor, and I'm able to pull off a character like that. Obviously the prosthetics help a lot. But it was a great role to play. I really enjoyed getting dressed up and playing the part.
A few years ago you lamented the death of the action star against the dominance of superheroes. Years later, how do you feel about the state of action movies and the actors who lead them?
Action is in a great place at the moment. You've got stunt coordinators [directing movies], like Chad and J.J. Perry and David Leitch and Sam Hargrave who can shoot action the way it's supposed to be shot. It's in a great place. Will the '80s, '90s action star make a comeback? I don't think so. We've got to a place now where you can train actors, if they're willing. You can train them where they really are compelling as action stars. Having said that, when you see someone like Donnie Yen ply his trade, there really is nothing better. So there's always a place. I like to think there's a place for me.
John Wick: Chapter 4 opens in theaters on March 24.