Robert Eggers' Nosferatu remake will reunite him with his best collaborator
The acclaimed director of The Witch and The Northman is revisiting the movie that ignited his obsession for the macabre.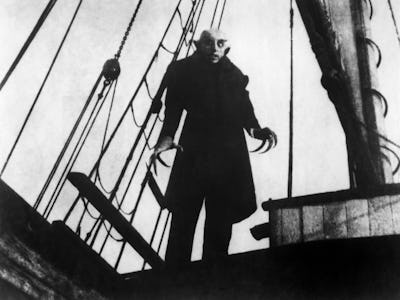 Bettmann/Bettmann/Getty Images
Despite the Oscars snubbing Robert Eggers' The Northman, the acclaimed director is already at work on his next project — and for Eggers specifically, it's the big one.
On Thursday, Deadline reported Eggers is remaking the 1922 silent horror film Nosferatu, a landmark in German Expressionism (and basically a fan film of Bram Stoker's Dracula). The project will reunite Eggers with Willem Dafoe, who starred in Eggers' The Lighthouse and The Northman. It's unknown what character Dafoe will play.
A remake of Nosferatu has been Eggers' passion project for a long time. As a teen, Eggers directed a stage version of Nosferatu, an experience Eggers credits as inspiring him to pursue filmmaking. In 2015, shortly after his debut film The Witch won acclaim, it was announced that Eggers would direct a remake. The project was later delayed in favor of his other movies, but now Eggers will get to bring his career full circle.
According to Deadline, Eggers' version will also star Lily Rose-Depp as the female lead, Bill Skarsgård as an "ancient Transylvanian vampire," and Nicholas Hoult in an undisclosed role.
Across his short body of work, Eggers has proven just how uniquely suited he is to remake a 20th-century gothic classic. His films are characterized by his obsession for esoteric period accuracy and eldritch horror, where mundanity barely holds against the slow creep of the otherworldly.
Visually, The Lighthouse indicates Eggers is capable of black-and-white horror in a 4:3 aspect ratio, which would pay homage to the original film's aesthetics. Then again, Eggers isn't a filmmaker who restricts himself to mimicry, and his approach to movies like The Witch — a picture that makes full use of colors, shadows, and a widescreen frame to foster fear of the wide open wilderness — could be just as effective.
In a 2016 interview with IndieWire, Eggers described himself as inadequate to direct Nosferatu. "It feels ugly and blasphemous and egomaniacal and disgusting for a filmmaker in my place to do Nosferatu next," he said. "I was really planning on waiting a while, but that's how fate shook out."
His origins with the original F. W. Murnau film predate even his high school years. "I saw a picture of Max Schreck as Count Orlok in a book in my elementary school and I lost my mind," Eggers told IndieWire. He later convinced his mother to drive to the mall so they could buy a VHS of the film. "Then, when I was 17, I directed the senior play [of] Nosferatu ... It was very expressionist, it was much more expressionist than the film is."
Eggers added that his ideas for Nosferatu have changed with age. "Nosferatu has a very close, magical connection for me. Though if I were to make the movie 17-year-old Rob was going to make of Nosferatu, it would have been something between like The Nightmare Before Christmas and Sin City, whereas this is going to be the same approach as The Witch, where 1830s Biedermeier Baltic Germany needs to be articulated in a way that seems real."
It's unclear if Eggers still intends to make Nosfteratu in the way he described seven years ago. But if the appeal of his movies are any indication, his remake will keep us up at night.