Frankenstein Is Finally Getting the Weird Sci-Fi Reboot We Didn't Know It Needed
Emma Stone comes alive in Yorgos Lanthimos' surreal adaptation of Alasdair Gray's 1992 novel.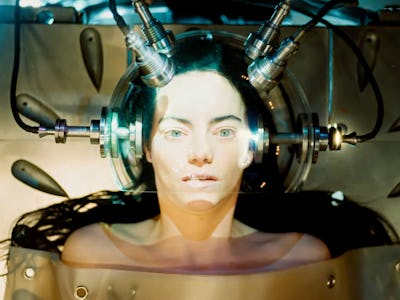 YouTube.com/SearchlightPictures
It's alive! It's alive! It's alive! We're talking about weird cinema, of course.
Five years after his period comedy The Favourite became an Oscar-nominated favorite, Greek auteur director Yorgos Lanthimos is back with a new movie, the surreal sci-fi Poor Things.
Searchlight Pictures released a 30-second teaser trailer of Poor Things on Thursday. Despite its short length, the trailer promises an arresting picture with eye-popping colors and design — think a Salvador Dalí painting crossed with Fritz Lang's Metropolis — along with charming mischief on the part of its cast featuring Mark Ruffalo, Willem Dafoe, Ramy Youssef, and Emma Stone as its main lead.
The movie is an adaptation of a 1992 novel by Alasdair Gray, which heavily riffs on Mary Shelley's Frankenstein, the original sci-fi horror. Emma Stone plays Bella, a beautiful woman with a mysterious past who is brought back to life by a scientist (Willem Dafoe) and travels the Victorian-era world with a rakish lawyer (Mark Ruffalo).
You can watch the trailer below.
Gray's novel is told through the opposing viewpoints of Bella's husband, Dr. Archibald McCandless, and Bella herself (or maybe Victoria) who disputes her husband's accounts as nonsense. The book leaves it up to the viewer to decide what is true, and the book overall explores the disparities between men's desires to control and women who desire freedom.
It's unclear at this point how much Lanthimos' movie will faithfully follow Gray's original story, including its conflicting narratives. But based on his past films like the deadpan comedy The Lobster and his acclaimed The Favourite (which first marked Lanthimos' collaboration with Stone), Lanthimos seems especially suited to take on Gray's story given its shared themes and motifs to Lanthimos' oeuvre. The differences between men and women, as well as the suffocating politics that swallow people whole, are all things that Gray explored in his book and happen to be things that Lanthimos gravitates towards as well.
While the summer is going to be bombarded again with blockbusters like The Little Mermaid and Transformers: Rise of the Beasts (which, funny enough, look amazing when paired together), it's comforting to know that weird movies like Poor Things can still make a trip to the movies feel so rich.
Poor Things will open in theaters on September 8.