Our Flag Means Death Season 3? Showrunner Reveals Plans for a "Mature" Ending
"How do you keep a relationship going?"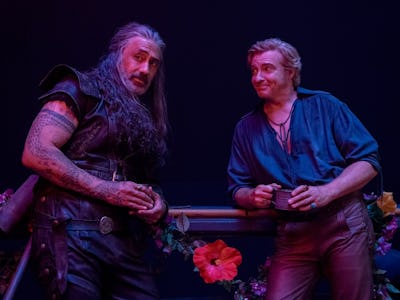 Max
Spoilers ahead for the finale of Our Flag Means Death Season 2!
What happens after happily ever after? Contrary to the bittersweet parting of its first season, Our Flag Means Death Season 2 ends on the happiest possible note for Stede "The Gentleman Pirate" Bonnet and Edward "Blackbeard" Teach. They've abandoned piracy to open an inn together, even if it's a bit of a fixer-upper and neither of them have relevant experience. But if creator David Jenkins gets his way, this won't be the last we see of Stede and Ed.
"I have plans for season three," Jenkins tells Inverse. "I would love it if Max had plans for season three, because I'd love to make another season of a show with them. I think they're a great place to make a TV show. But season three would be the last season."
Max hasn't greenlit a third season of Our Flag Means Death, though recent reports of the second season's rising success suggest it could happen sooner or later. While the first season was a sleeper hit, Season 2 has become a bonafide breakout, to the point that Our Flag Means Death is angling to become a new "flagship series" for Max. But regardless of the show's surprise success, Jenkins has always had a three-season plan for Our Flag Means Death. He has a rough storyline in mind for Season 3, too.
"I have a clear idea where I'd like to take it," Jenkins says. He envisioned the romance between Stede and Ed as a relationship that moves from "immature" teens falling in love for the first time, to "people in their 20s trying to learn it if they want to move in together." From there, Season 3 would explore "what happens after you start a small business together? How does that work? How do you keep a relationship going? What are the problems in a relationship that are more than just like, oh, does he like me or does he not like me? How do you be a person for that person, and continue to grow with them? What happens if one of them stops growing and you keep growing?" Jenkins says. "That, to me, is a natural outgrowth of what we like in happily ever after."
It's like Richard Linklater's Before trilogy, but for pirates, an observation Jenkins agrees with.
"That's a great trilogy of storytelling, because it is the story of love in youth, love in less youth, and love in even less youth," Jenkins says. "Just because you're not emotionally in your 20s doesn't mean the love story stops."
Could that mean trouble for Stede and Ed in Season 3? Linklater's final film in his trilogy, Before Midnight, saw the central relationship crumble before our eyes thanks to years of built-up resentment. Could Our Flag Means Death Season 3 follow a similar time jump, and a similarly upsetting dissolution of a once-strong romance? Perhaps Episode 4's misadventure with Anne Bonny (Minnie Driver) and Mary Read (Rachel House) might have been less of a bad dinner party with two mercurial lesbian pirates, and more of a glimpse into Stede and Ed's future. Jenkins wouldn't say much, but his vague teases of Season 3 sound decidedly more optimistic.
"We need more love stories where we see this love mature," Jenkins says.
Our Flag Means Death is streaming on Max.