Our Flag Means Death Season 2 Forgets What Made the Show Great
When does fan service go too far?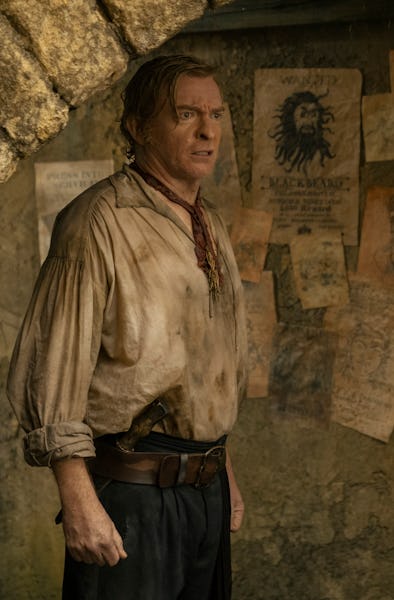 Max
There has never been a show like Our Flag Means Death.
It premiered on HBO Max in March 2022 as a historical pirate comedy starring Rhys Darby as Stede Bonnet, the Gentleman Pirate, as he clashes with the infamous pirate Blackbeard, aka Edward Teach (Taika Waititi). But as the series progressed, creator David Jenkins' original plan became clear: Our Flag Means Death transformed from an absurd workplace comedy with a crew of fun characters into a touching romance between two pirates. It was a surprising twist: in a world of queerbaiting shows, it was rare to see one have the courage to actually make the romance happen.
In Season 2 of the series, premiering October 5 on Max, Jenkins no longer has the bait-and-switch surprise of the original series. Instead, this season has one motto: give the people what they want. But what the people want doesn't necessarily make for the best story.
When we last left Ed and Stede, they were separated, each thinking the other abandoned them. Now, Ed is left on the Republic of Pirates with one half of his crew, while another half is onboard the Revenge with a not-at-all-well Blackbeard.
Ahead of Season 2, one question was on everyone's lips: how would Ed and Stede find their way back to each other? The answer to that question, while satisfying, is actually the biggest flaw with the series. Our Flag Means Death loses sight of the wild pirate antics that built the foundation of the show, and is instead fixated on feeding the nostalgia around its central relationship. It's so caught up in a feedback loop of fan service, that it forgets to tell an actual story.
As we follow Ed and Stede on their separate journeys, we're constantly reminded of what happened between them. Cutaway-gag-style flashbacks are constant in this season, to the point that one episode flashes back to the previous episode. It feels like the series is constantly reminding viewers of how great it was and forgetting to make the present just as good. It's just as obsessed with the past as Ed and Stede are, which makes for pacing that feels like walking through mud: it takes six episodes for there to be antic-filled episodes yet again.
That's not to say the focus on Ed and Stede is undeserved — there are plenty of beautiful and chaotic moments between the two, including a double date that feels like a love letter to The Office's delightfully cringeworthy "Dinner Party." The romance is still there and still alive, it's just missing a key quality from Season 1. Season 1 was all about the juxtaposition of these rugged, swashbuckling pirates allowing themselves to be soft and in love. Now, we know that Blackbeard has a sentimental side and that these men love each other, so there aren't any stakes. To borrow a term from fan fiction, it's tooth-rotting fluff.
Outside of the main pirates, the crew of the Revenge is just as funny as before, with some great new additions. Ruibo Qian and Madeleine Sami join the ensemble without missing a beat, while still allowing space for the core characters to grow. Con O'Neill continues to be the cast's secret weapon as Izzy Hands, who finds his own growth this season. Their captains' romance may be stuck in arrested development, but the supporting cast really shines.
After the first half of the season focuses on reuniting Ed and Stede, the pirate plot can finally kick into gear. In those last moments, it's finally obvious this show is still capable of recapturing the unpredictable, exuberant energy of the past without leaning too hard on nostalgia.
But at what point does a story stop being about the characters and instead about delivering the moments the fans have been asking for? Even with this eleventh-hour pivot back to what Our Flag Means Death does best, it's hard not to see the season's most satisfying scenes as almost hollow.
Our Flag Means Death Season 2 is exactly what the fans want, but that doesn't make it a cohesive watch. The characters feel locked in adolescence, without the ability to truly evolve, for much of the season. While those moments will inspire some great fanfiction, it doesn't make for a rip-roaring pirate adventure.
Our Flag Means Death Season 2 premieres October 5 on Max.