Omni-Man's Debut in Mortal Kombat 1 Was a "Monumental Task," Invincible Creator Says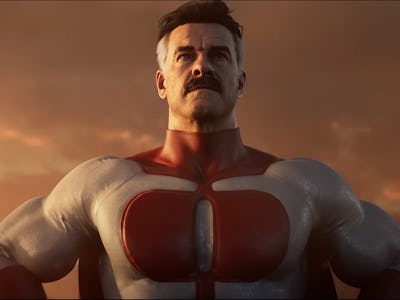 Warner Bros. Games
Imagine for a moment the powerful Omni-Man of Invincible ripping in half Scorpion and Sub-Zero from Mortal Kombat. Sounds cool, right? Well, you don't have to imagine it.
The vanguard of the Viltrum Empire will soon arrive in Mortal Kombat 1 as part of the game's first wave of downloadable content (DLC). While its scheduled release date is currently unknown, the good news is that Oscar-winner J.K. Simmons is reprising his role of Omni-Man from the animated series on Amazon.
In an interview with Inverse, Invincible creator and co-showrunner Robert Kirkman and executive producer and co-showrunner Simon Racioppa rave over Omni-Man's inclusion in one of the biggest gaming franchises of all time. "I can't wait to play with him, "Racioppa tells Inverse. "It looks great, it makes me incredibly happy to see that."
Omni-Man's inclusion in Mortal Kombat 1 was announced in July at San Diego Comic-Con, as part of the game's original announcement for current-gen platforms. On October 14, an official trailer for Omni-Man was uploaded to social media that featured a glimpse of Simmons' voice performance and Omni-Man's moves, including his bloody "Fatality" finisher based on the show.
Kirkman reveals he was also very involved in making sure Omni-Man was presented as he wished. "I worked very closely with the writers," Kirkman tells Inverse. Kirkman confirms he was present for Simmons' voice-over sessions for the game, so Kirkman witnessed the star of Whiplash recite lines tailored to the nuances of Mortal Kombat lore. "A lot of those voice lines are specifically calling out Mortal Kombat characters and stuff about Mortal Kombat lore, so that was a treat," he says.
The comics creator and TV producer praises Netherrealm Studios, the developers of the Mortal Kombat series, for being "really collaborative with me" and Invincible artists Corey Walker and Ryan Ottley. "We had input on the lines of his costume, we picked the actor they modeled the head off of. We were very hands-on with making sure every aspect seemed like Omni-Man and fit Omni-Man from the show, and paid tribute to the character."
He adds that former Skybound writer Shawn Kittelsen, now VP of Creative at Skydance and writer of the Mortal Kombat games, was the connective tissue to bringing Omni-Man into a new medium. "He had worked on Mortal Kombat previously and worked with me to come up with all the lines of dialogue we got J.K. [Simmons] to say. Which is a monumental task in video games, you have to write like 4,000 lines of dialogue. So, I did a little more than tweak things."
The experience stands in contrast to the last time one of Kirkman's creations made it to a video game, when Negan from The Walking Dead became a bonus character in Tekken 7. (Kirkman describes Negan's involvement in Tekken 7 as "an AMC thing" that he "found out about late.")
Racioppa was less involved than Kirkman, but he's still excited to get his hands on Omni-Man. "I can't tell you how awesome that trailer is," Racioppa says.
With Invincible's imminent return to streaming on Prime on November 3, Omni-Man being a playable character in Mortal Kombat is just another way for fans to immerse themselves in the Invincible multiverse. It certainly has Kirkman's stamp of approval. "They really got it right," he says. "They worked tremendously hard to make sure every aspect of that character was done well."
Invincible returns for its second season on November 3 on Amazon Prime Video.