A Murder at the End of the World is the Most Intriguing Tech Thriller of the Year
Agatha Christie meets Alex Garland in Hulu's technoir murder mystery.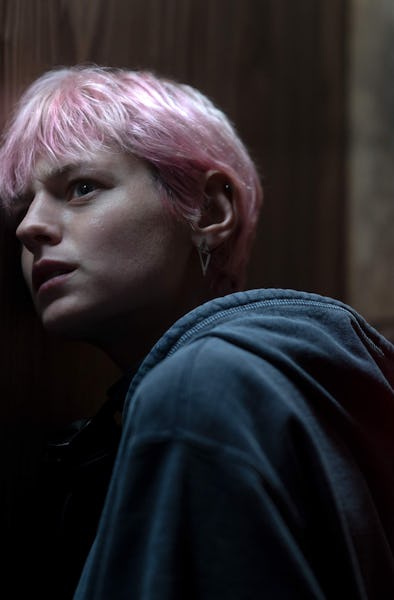 Chris Saunders/FX
Murder mysteries generally tend to strive for complexity, but more often than not, myriad twists and turns will give way to a hollow core. That hasn't been enough to damn the genre entirely — especially not now, when the work of Agatha Christie seems more popular than ever before. Hollywood is more eager than ever to unmask hypocrisy for the sake of a good time. That so many of these thrillers seem to deal in the perils of AI and accessibility, just as the film industry fights for protection against predatory programming, is certainly ironic. But very few are all that interested in real interrogation.
Our present-day dystopia, made all the more urgent by climate change and rapidly-evolving tech, is just the catalyst for a generation desperate for change. The future rests now in the hands of a privileged few: the rich, brilliant, and occasionally resourceful. Whether they can right a sinking ship in time to save us all is not a puzzle that anyone is completely qualified to solve — but FX's latest limited series, A Murder at the End of the World, has a lot of fun trying.
The world of A Murder is broken, though not entirely beyond repair. While tech billionaires like Clive Owen's Andy Ronson divest their considerable wealth to the search for a solution, the little guys try to fix the world using the resources at their disposal. For Darby Hart (Emma Corrin), a twenty-something raised in morgues and internet forums, technology is an impeccable tool. As the daughter of her small town's coroner, Darby knows her way around a cold case better than most. She's also solved quite a few in her time: she uncovered a 20-year-old trail of murders before she'd even come of age, all with the help of fellow internet baby — and former lover — Bill (Harris Dickinson).
In the six years that have passed since the unlikely duo unmasked the Silver Doe Killer, Darby has shot into the public eye as a "Gen Z Sherlock Holmes," while Bill dropped off the grid to make anti-capitalist art installations. Darby hasn't seen him since, and there's a sense that her obsession with solving true crime might be to blame.
That all changes when they reunite at a "tech retreat" orchestrated by Ronson himself. The technocrat is adamant about healing the world before it's too late, and he's invited a handful of high-profile guests to his remote compound in Iceland for a brainstorm session. Darby is mostly there to meet Ronson's wife Lee (Brit Marling), a childhood hero and expert hacker who rose to prominence in the early aughts. But when one guest is murdered on the first night of what's meant to be a week-long affair, Darby finds herself slipping right back into old habits.
A Murder at the End of the World oscillates between the case that Darby is currently working to solve, and the one that first introduced her to Bill, the Silver Doe murders. Deftly-placed flashbacks chart the beginnings of their unlikely partnership and the throes of their investigation across the Midwest. It's a welcome break from the frigid claustrophobia of Iceland: Darby and Bill's love story has all the warmth and wide-eyed empathy that her present-day dystopia lacks, and Marling (who created and directed the series alongside The OA's Zal Batmanglij) captures each timeline with a sure and steady hand.
The series may tout itself as a murder mystery — a genre it honors with tech-focused intrigue and a skillfully sketched-out cast of suspects and victims — but it's actually a love story in disguise. Darby and Bill circle each other like ships in the night, never able to figure each other out until it's too late. Darby in particular struggles to unlearn the habits that doomed their affair in the first place.
Their relationship finds a fitting foil in Andy's marriage to Lee. The more Darby digs into the murder in Iceland, the more secrets she excavates, some that could shatter the illusion that her gracious host has spent decades building. But Andy isn't the only one with something to protect: Marling is equally elusive as Lee. Few members of this ensemble should be trusted off the bat, but Lee may be the hardest to figure out. While her shady past does contribute some predictable twists, it inspires the most tension in the ways it disarms Darby.
A Murder spends a lot of time digging into the complexities and hypocrisies between this quartet. Its emphasis on their tangled drama is frequently compelling, but it does pull focus from the supporting cast when they need it most. The series alludes to taut inner worlds for each of them, but we never get much of it. Aside from the occasional throwaway line, Andy's guests are more like avatars than actual characters. They pop up to personify debates around AI and art, the ethics of "smart cities," and the validity of space colonization. It can get frustrating exploring these topics and not what makes these characters tick, but performances from Alice Braga, Joan Chen, Louis Cancelmi, and Javed Khan transcend what little depth they're given.
It's easy to forgive A Murder's flaws when it's telling such a rich story. The seven episodes vary wildly in scope and pace — the shortest clock in under 50 minutes; others are the length of a feature film — and not every moment is all that exciting. But Marling and Batmanglij bring us back into the action before too long, with creative thrills that subvert our own dependence on technology. It keeps each twist from feeling too pedestrian, especially since so many reveals feel spoonfed and soapy. In the end, it's the performances that make the series worth watching: it can't claim to revolutionize the genre, but its choice to splice a traditional Agatha Christie premise with the setting of an Alex Garland film is enough to keep things interesting.
A Murder at the End of the World premieres November 14 on Hulu.