How Kenneth Branagh Brought the Agatha Christie Whodunit Back to Life
The CEO of the Agatha Christie estate is enjoying the whodunit renaissance.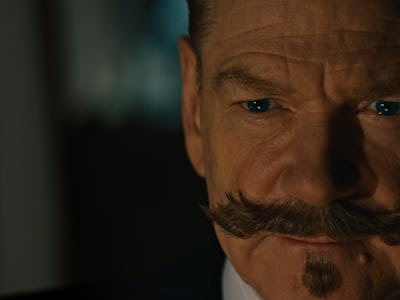 20th Century Studios
The hottest name in Hollywood right now is Agatha Christie. It might seem strange considering the famous murder-mystery novelist passed away almost 50 years ago, but in the last few years, we've seen a deluge of adaptations and Christie-inspired whodunits. You wouldn't be wrong to claim that the bestselling novelist's name is more relevant than ever, but according to Agatha Christie's great-grandson James Prichard, it never went out of fashion.
"At the end of the day, people like great stories," Prichard tells Inverse. "And these are great stories."
And yet, it's hard to deny we're in the middle of a whodunnit moment. Almost a century after the very first Christie film adaptation (1928's The Passing of Mr. Quinn), movies like Rian Johnson's Knives Out and Glass Onion, and TV shows like Only Murders in the Building and Poker Face, are bringing the whodunnit back into the zeitgeist. And, of course, there's Kenneth Branagh's Hercule Poirot movies, with the latest, A Haunting in Venice, hitting theaters today.
Prichard serves as CEO and chairman of the Agatha Christie estate, entrusted with making sure the Christie legacy is maintained throughout the various Hollywood and British adaptations of her works. He's also a producer on Haunting in Venice. He's played a key role in the whodunnit renaissance, which arguably started with Branagh's Murder on the Orient Express.
After peaking in the '70s when starry ensemble-led films like Murder on the Orient Express and And Then There Were None became box office hits, Hollywood largely moved in in the late 20th Century. But Agatha Christie has always been there, waiting for her chance to strike like the murderer in a Poirot mystery.
"There is a core to the murder mystery genre, which is incredibly satisfying," Prichard says. "You start with a puzzle and end with a solution. You usually find out some interesting things on the way. You have a few surprises, you have a few shocks, and at the end, everything's wrapped up. You understand it and you go home. Hopefully with joy in your heart."
It's a watertight formula — one that extends beyond Hercule Poirot. The famous Belgian detective, after all, only appeared in roughly half of Christie's 66-plus books. So does Prichard hope that Hollywood will latch on to another of Christie's creations?
"I would love to do something with Miss Marple. I think she deserves her moment in the sun," he says, referencing the small-town amateur detective once played by Angela Lansbury in 1980's The Mirror Crack'd.
Inverse spoke with Prichard about the whodunit renaissance, the shift in genre for A Haunting in Venice, and whether he's building an interconnected Agatha Christie cinematic universe.
This interview has been edited for clarity and brevity.
With Kenneth Branagh's Poirot movies and homages like Rian Johnson's Knives Out movies, it feels like now more than ever there's a serious appetite for Agatha Christie adaptations. Why do you think that is?
I think there are two answers to that question. One is that Agatha Christie adaptations have never gone away. We've been making them since she started writing to some extent and in some level of frequency. But you are right that since we did the first movie in this series, Murder on the Orient Express in 2017, the murder-mystery genre has had a renaissance.
We've done a series of BBC films over the last five or six years, which have also done incredibly well. But my question would be: Why did the murder mystery genre go out of fashion? Fans of the genre have always been there. People have always enjoyed these stories. The audience has been there. Now, they're getting what they want.
Can you talk about how Kenneth Branagh's team first approached you for Murder on the Orient Express and whether that included more movies after that, such as Death on the Nile and A Haunting in Venice?
Well, the story of Murder on the Orient Express started before Ken and actually started before me. It was my father who had the first meeting in about 2010 with Simon Kinberg. From there everything moved along. At some point, Ken Branagh came on board, first as director and then it was suggested he might act. So why wouldn't you? He's one of the most talented actors of his generation, and the fact that he wanted to play Poirot is just extraordinary.
A Haunting in Venice is a bit of a departure from Branagh's two other movies in that it's shot almost like a horror movie. Even the marketing downplayed Poirot quite a bit and played up its horror elements. Was there an intentional pivot in terms of downplaying the Poirot and up-playing the horror?
I'm not sure Poirot has been downplayed. I think Poirot is central to this film. The horror thing is a part of it. This project came originally from [screenwriter] Michael Green thinking that having done two very faithful adaptations of big famous books, for the third movie we should surprise our audience. He chose Hallowe'en Party to do something different. And the main difference he wanted to tonal.
He wanted to go into horror and he's done that. I don't actually think it is a horror film. It's still a murder mystery at heart, but it does have horror elements. It definitely has scary moments. I jumped out of my seat a few times the first time I watched it. But that is a testimony to the flexibility of my great-grandmother's stories. You can play with them in terms of genre and where you set them because, at the heart, it is the plot that matters.
Now that the Poirot movies are essentially a full-fledged series, can we expect it to become something of — this is kind of a term that's bandied about a lot — a cinematic universe?
I'm not sure I would use the term cinematic universe. I would love to make more of these movies. I enjoy the process. I think a Hollywood movie brings you to an audience that you can't get any other way. There's a scale to them and a beauty to them, which is second to none.
So if this movie is successful and Ken wants to make more and 20th Century wants to make more, I would be very surprised if we didn't. There are plenty more stories. My great-grandmother wrote 33 full-length Poirot novels. There's plenty of material to choose from.
How long do you foresee Branagh's Poirot movies going for? Two more movies? 10 more movies? All of the Poirot stories adapted?
We go one movie at a time. Let's hope this one is a success and then someone wants to make another one. And if that one's a success, maybe we'll make another one after that. But there will be a limit at some point. Ken has other things he wants to do. There is a finite amount of time in the world.
You spoke about Agatha Christie writing many more stories, some of which don't feature Poirot. Do you foresee other movies outside of the Poirot series essentially being adapted of Agatha Christie's works?
Well, we do do other things outside this series. We have just finished shooting a version of Murder is Easy for the BBC and others and Britbox in the U.S.
I would love to do something with Miss Marple. I think she deserves her moment in the sun. She's always slightly sat in Poirot's shadow and it would be nice to bring her out at some point.
What do you personally think is the enduring appeal of an Agatha Christie story?
Put simply, it's the plot. She had a genius for story, which is why she's the bestselling novelist of all time. That is what is at the core of everything we do. It's all about the stories.
We play with them, if that's the right word, we adapt them, but she has given us the raw material from which we can do that, and that is our privilege. That's why we're at the heart of this genre and why everyone pays their respects to my great-grandmother.
A Haunting in Venice is playing in theaters now.