Only Murders in the Building Season 3 Puts on a Terrifically Twisty Show
The third season takes the show out of the building — and it couldn't be better.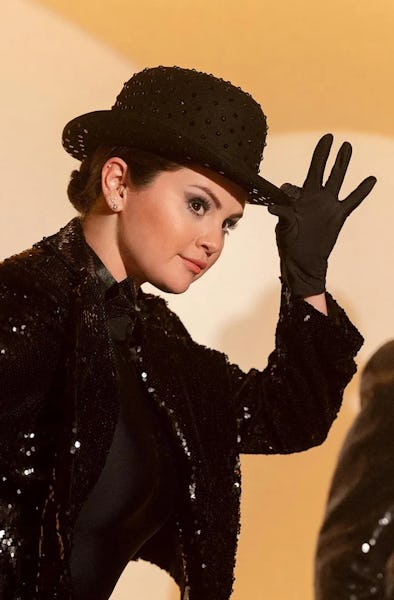 Hulu
The first season of Only Murders in the Building was lightning in a bottle. A comedy murder-mystery about a trio of true-crime fanatics who decide to start a murder podcast, Only Murders is a strange concoction that shouldn't have worked, a fact embodied best by its unlikely leading trio of Steve Martin, Martin Short, and Selena Gomez. Martin and Short are longtime collaborators who co-starred in comedy classics like The Three Amigos and Father of the Bride, but the leads of Only Murders sound like a Mad Libs dreamed up by a lazy corporate executive. "Let's get Steve Martin and Martin Short back together, and throw in… Selena Gomez!"
But the trio worked. They sang. The odd-couple dynamic between Martin and Short got a shot of cynical energy from Gomez, whose thorny ennui played well against Short's outsized buffoonery and Martin's hapless vulnerability. It's their chemistry that carried Only Murders in the Building through its heightened, stylish first season, which saw washed-up TV star Charles-Haden Savage (Martin), struggling Broadway director Oliver Putnam (Short), and their mysterious fur coat-wearing neighbor Mabel Mora (Gomez) get involved in the apparent suicide of one of their neighbors at the Arconia, a fictional luxury apartment complex in New York City based on a real building. That chemistry — and the colorful supporting cast — carried the show through its more muddled second season, and now Only Murders in the Building is back and better than ever with Season 3.
Only Murders in the Building Season 3 takes the twisty ambitions of Season 2 and pairs it with the personal character mysteries of Season 1 to deliver the most exciting season yet. While Season 2 got caught in twists and turns that couldn't withstand scrutiny, Season 3 is an intricate knot that must be slowly unraveled. It begins four months after Season 2, on the opening night of Oliver's big Broadway comeback, Death Rattle. But Oliver's leading man Ben Glenroy (Paul Rudd, delightful as a spoiled jerk) drops dead onstage. His death, apparent revival, and real death throw the show into chaos and spurs Mabel to revive their podcast.
Apart from the trio's usual antics — breaking into apartments, contaminating a crime scene, ruining a funeral — Season 3 feels like a different beast, in part because it takes the show on the road into the world of theater. With its murder-mystery play framing, Season 3 explicitly draws from Agatha Christie. The ensemble of new suspects (all the play's cast and crewmembers, to give us a break from the building) makes the Christie connection feel stronger, as does the timeline-jumping narrative. The flashbacks and flashforwards, which keep even our core trio's actions a mystery, keep the season feeling complex but not confusing.
Refreshingly, Only Murders also changes up the character dynamics. Mabel is just as lonely and lost as before, but this time she just misses her old guys; with Charles in Oliver's play, they don't spend as much time with Mabel as they used to. Mabel jumps at the chance to solve Ben's murder, if only to get more time with them before she moves out of their lives forever. There's a sense of finality and stakes in Season 3, which prove Only Murders is making an important choice that some comedies don't: it's letting its characters evolve. Mabel has to finally move out of the Arconia, making this case their last hurrah, while Oliver's failing health and Charles' part in the events add more tension.
While Only Murders in the Building seems to be riding high on its hype more than ever before (in addition to Rudd, the show scored Meryl Streep as the season's MVP), it feels more confident than its previous season. It's still cozy TV full of silly gags and stylish coats, but Only Murders in the Building Season 3 shows a series at the height of its power. Each mystery still unravels with a fizzy, stylish pop, and every new twist is more entertaining than ever.
Only Murders in the Building is streaming on Hulu.