Ms. Marvel Episode 2 release date, time, plot, cast, trailer, and schedule for the Disney Plus series
How will the world's biggest Avengers nerd deal with having her own superpowers?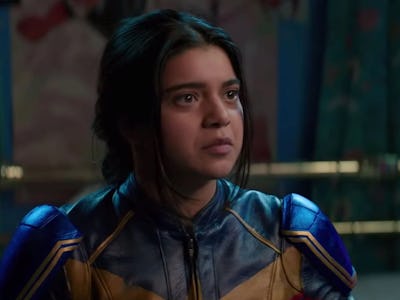 Marching into the MCU's Phase 4 with a spunky superhero sheen, Ms. Marvel arrived on Disney Plus last week as a throwback to colorful live-action Saturday morning fare.
Kamala Khan (Iman Vellani) is a Pakistani-American teen living in Jersey City who worships Marvel superheroes, especially Captain Marvel. When she's not trying to fit in with her classmates and deal with overbearing parents, the bright superfan is hanging out with her best friend Bruno and making elaborate Avengers fan videos.
In the premiere episode, "Generation Why," Kamala's family is sent a box of old heirlooms by her grandmother in Pakistan. Among the junk is a mysterious bracelet of unknown origin that gives her cosmic powers.
Ms. Marvel scraps Kamala's comic book encounter with Terrigen gas, and it appears to ice her connection to the Inhumans as well, presumably because of the failure of the recent Inhumans TV show. Instead, Episode 1 ends with Kamala sneaking out to enter the Captain Marvel cosplay contest at AvengerCon. When she snaps on the mystic bangle to add a bit of flair, her body is enveloped in a purple glow and she's blasting light from her hands.
What's next in Ms. Marvel as Kamala tries to make sense of her abilities? Let's dive into the details.
When is the Ms. Marvel Episode 2 release date?
Ms. Marvel Episode 2 airs exclusively on Disney+ starting Wednesday, June 15, 2022.
What is the Ms. Marvel Episode 2 release time?
Disney+ releases new movies and TV shows at midnight Pacific, which is 3 a.m. Eastern.
How many episodes is Ms. Marvel Season 1?
Ms. Marvel will consist of six episodes. Here's the presumed release schedule for the rest of Season 1:
Episode 2 - June 15, 2022
Episode 3 - June 22, 2022
Episode 4 - June 29, 2022
Episode 5 - July 6, 2022
Episode 6 - July 13, 2022
What is the Ms. Marvel plot?
Adapted from the character created by Marvel editor Sana Amanat, writer G. Willow Wilson, and artists Adrian Alphona and Jamie McKelvie, Ms. Marvel first appeared in 2013's Captain Marvel #14. Kamala Khan is an imaginative Muslim teen and Avengers superfan who has to deal with family drama, the troubles of high school life, and her burgeoning superpowers while she grows up in New Jersey.
Who is in the Ms. Marvel cast?
Newcomer Iman Vellani stars as Kamala Khan, while her co-stars include:
Matt Lintz as Bruno Carrelli
Yasmeen Fletcher as Nakia Bahadir
Zenobia Shroff as Muneeba Khan
Mohan Kapur as Yusuf Khan
Saagar Shaikh as Aamir Khan
Rish Shah as Kamran
Fawad Khan as Hasan
Laurel Marsden as Zoe Zimmer
Arian Moayed as Officer P. Cleary
Is there a Ms. Marvel Episode 2 teaser?
There's no official Episode 2 trailer, but we're expecting the next chapter to build on the fallout of Kamala's powers emerging at AvengerCon. A post-credits scene last week revealed Agent Cleary (Arian Moayed) and Agent Deever (Alysia Renier) of the Department of Damage Control developing an interest in her, so they'll no doubt be trying to bring Kamala in for interrogation.
Also watch for Kamran (Rish Shah) to emerge as a both a potential crush and a potential villain.
Will there be a Ms. Marvel Season 2?
Disney and Marvel Studios president Kevin Feige have been silent on any plans for another season, although there are enough comic book adventures to fuel a sophomore season. Looking further into the future, Ms. Marvel is destined to appear in the 2023 Captain Marvel sequel, The Marvels, alongside Carol Danvers and Monica Rambeau.
Ms. Marvel Episode 2 premieres on Disney+ on June 15, 2022.