Marvel's Most Overlooked Show Sets the Stage for Avengers: Secret Wars
The new villain in Moon Girl and Devil Dinosaur might have some ties to the MCU.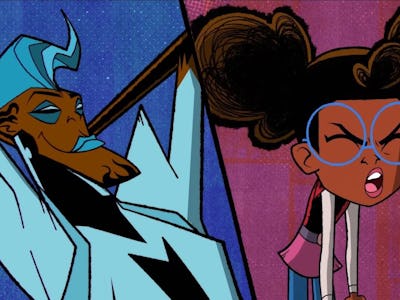 Disney Channel/Marvel Animation
Obnoxious and nigh-omnipotent, the Beyonder is one of Marvel Comics' most frustrating and flamboyant characters — and a potential key component to Phase 6 of the Marvel Cinematic Universe's content slate, including its 42nd film, Avengers: Secret Wars.
Typically clad in a dazzlingly white costume that's aesthetically a cross between what you'd find in Elvis and Bowie's respective closets, the shapeshifting villainous cosmic entity essentially starts the first (and the second) Secret Wars in the comics just because he can. For the first Secret Wars, the Beyonder kidnaps the heroes and villains of the Marvel Universe to have them duke it out on a makeshift planet aptly called Battleworld. In the second, the Beyonder threatens to destroy the entire multiverse after a mission to learn about human desire on Earth goes awry.
Beyonder plays a pivotal part in Marvel Studios president Kevin Feige's vision for closing out the movie series' Multiverse Saga — but he hasn't made an appearance yet (not in the MCU, anyway).
To Infinity and Beyonder
The Beyonder was introduced in Marvel's most eye-catching TV series yet: Moon Girl and Devil Dinosaur. The family-friendly animated show about a 13-year-old supergenius superheroine living with her parents, grandparents, and hot dog-loving Jurassic sidekick in the Lower East Side of New York premiered in February 2023, but had already received a Season 2 green light from Feige and co. months prior to its release on Disney Channel. Starring the voices of Diamond White, Fred Tatasciore, Alfre Woodard, Laurence Fishburne, Moon Girl and Devil Dinosaur's highly creative (and high-octane) Andy Warhol-inspired graphic illustrations and contemporary needle drops have made it one of the most exciting — albeit not the most well-known — projects to spring from Marvel Animation.
Though it was a quiet rollout, the Beyonder's leap from comic book panels to the Disney Channel cartoon's storyboards was loud and brash. Fashioned with a sleek and slinky suit, a bright blue coif, and a sinister timbre produced by executive producer Laurence Fishburne, the Beyonder's debut in the sixth episode of Moon Girl and Devil Dinosaur made it one of the most memorable chapters yet. In the eponymous episode, the Beyonder claims he was sent to Earth to decide whether or not humanity was worth the trouble of keeping in the universe or if it should be erased. The Beyonder seeks out the smartest person on Earth, Lunella Lafayette — move over, Reed Richards — to help him determine the fate of humanity's existence. (No biggie!)
"You could literally see the character developing right before your eyes."
Striking a sinister figure right off the bat, Beyonder may not be MCU canon quite yet, but his animated version did, in fact, manifest itself due to a recommendation from none other than the Marvel Studios boss himself.
Executive producer and show co-developer Steve Loter, known best for his directorial work for the iconic Disney Channel series Kim Possible, tells Inverse that Feige was the one who suggested that they bring the Beyonder into the Moon Girl and Devil Dinosaur fold, giving the team ideas on what he should look and act like and even do.
"That was a fun moment, because it was like, 'Oh, wow! You're the one giving me this really fun character to be in and cause events in this show," Loter says. The Beyonder quickly became one of Loter's favorite characters, not only because he's amusing to draw and to animate, but also because of what Fishburne did to craft the character.
"I have to give huge credit to Laurence. He was very involved in the design of the character, the writing of the character, and the creation of the Beyonder's voice. It was like watching a masterclass in acting… The very first session he came in and tried different voices for 20 minutes just to reach the right tone and the right feel. You could literally see the character developing right before your eyes," Loter adds.
Loter assures that there's definitely more adventures coming with the Beyonder, but his straightforwardness about the Beyonder's fate across Marvel's on-screen properties stops there.
When asked by Inverse if the Beyonder could bridge the gap between Moon Girl's storyline and the MCU's, causing havoc in her animated realm before, eventually, moving on to live-action, Loter and supervising producer/co-EP/director Rodney Clouden got vague.
"Well… He's all-knowing and omnipotent and all-powerful, so it lends itself to all kinds of possibilities [on-screen]," Clouden, known best for his longtime stints on Futurama and American Dad, cheekily says.
But even though the Beyonder is one exciting part of Moon Girl and Devil Dinosaur, he certainly isn't the star that shines the brightest. That spotlight belongs to protagonist Lunella, a nerd with superior intellect, wildly confident rollerblading skills, and an abundance of love for her diverse neighborhood and school. The epitome of #BlackGirlMagic, Lunella's inclusion in the broader Marvel universe is both groundbreaking and part of an ongoing trend across Marvel television and film.
Moon Girl Magic
Fishburne, most recently seen in John Wick: Chapter 4, was no stranger to the MCU when Marvel Studios co-president, Louis D'Esposito, approached him with the comic book Moon Girl and Devil Dinosaur, a gender-bent spinoff of the original Moon-Boy and Devil Dinosaur. Fishburne had starred as the Silver Surfer in Fantastic Four: Rise of the Silver Surfer and Bill Foster in Ant-Man and the Wasp, but he had never undertaken an animation project for Marvel before. Longtime collaborators and MGDD co-EPs Fishburne and Helen Sugland (Black-ish, Grown-ish) worked on the series for two years before hiring Loter to come on due to his experience creating female-centered shows.
All of the show's developers agreed that it was imperative to emphasize Black excellence, and more specifically the excellence of a young Black girl like Lunella. While smart Black girls like Monica Rambeau, Shuri Udaku, and Riri Williams have had prominence in the MCU, such a focus is generally rare in animated shows catered to younger audiences, Clouden explains.
"You need to see that there are Black people in science-fiction and Black people in the future. I remember Laurence said in an interview that ,'You can't be what you don't see,' and that makes sense because if you don't see it then what do you have to aspire to?," Clouden says. Lunella, therefore, was fashioned to be a sort of 'North Star" for viewers who could see her as a guide that could inspire them to get to where they want to be after seeing themselves in her shoes (and skates). "We want to change the narrative of who people think is smart, and what complexion or nationality or color is equated with being intelligent." Clouden adds that much of Moon Girl's characterization is inspired by the life and contributions of NASA mathematician Katherine Johnson (the subject of the hit 2016 biographical drama Hidden Figures).
Beyond Lunella herself, Moon Girl and Devil Dinosaur has an overt political and social commentary that no other Marvel project housed within Disney has dared touch-on in such a casual and consistent way before.
"We have so many women and so many people of color on the team, and it really shows [in MGDD]," Lunella's voice actress, Diamond White, tells Inverse. For example, Lunella's best friend Casey is a Jewish Latina who has two dads; one of the popular kids in her school has they/them pronouns and the other wears a hijab; rainbow and trans flags are waved in the background of scenes; neighbors roll their eyes at the Avengers, who are widely known for not going below 14th Street to fight crime. It's these intentional details throughout the groundbreaking series' 17 episodes (so far) that makes White feel proud of being in the cartoon.
"We have so many women and so many people of color on the team, and it really shows."
"Both Disney and Marvel were very supportive of the vision and the broad scope of diversity represented in the show from day one, so there was never any indecision or conflict about where to go with that," Loter notes. Loter and Clouden both affirm that Feige and D'Esposito have been pleased with the product, and that more adventures are certainly ahead for Moon Girl and Devil Dinosaur.
So, will viewers be treated to a photorealistic red (and domesticated) Tyrannosaurus rex and Lunella Lafayette in 3D soon? (Perhaps in another show featuring a comics-canon Inhuman that lives close to New York City, or in a wider-scale future Young Avengers project, or even in a surprise Avengers: Secret Wars cameo?) That doesn't seem to be in the cards for now… But with a multiversal traveler like Beyonder counting himself as canon in both Moon Girl and the MCU at large, it can't be entirely ruled out either.
Moon Girl and Devil Dinosaur Season 1 is available to stream now on Disney+.