Corey Stoll could have the chops to make a live-action M.O.D.O.K. work
Marvel's bigheaded megalomaniac needs to strike the difficult balance between silly and scary in his upcoming MCU debut.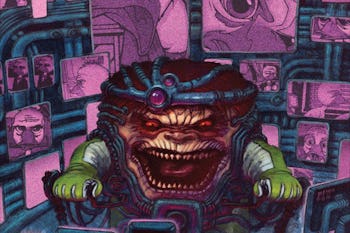 "M.O.D.O.K. never compromises!," as Marvel's most infamous Mental Organism Designed Only For Killing has confidently asserted many times in trippy comic book panels. So it stands to reason that the MCU shouldn't be expected to compromise on the floating megalomaniac in question, either, in his upcoming live-action debut.
Though Kang the Conqueror (Jonathan Majors) is slated to be the Biggest Bad of Them All in the MCU's fifth phase — and potentially Phase 6 as well — M.O.D.O.K., seen ominously hovering about in the latest Ant-Man and the Wasp: Quantumania trailer, will likely prove to be a headache to the heroes.
In the third Ant-Man film installment, Ant-Man and the Wasp: Quantumania, M.O.D.O.K. is slated to be portrayed by Corey Stoll, who previously played Darren Cross/Yellowjacket in the first Ant-Man flick.
"MODOK is maybe my single favorite thing that I got in the movie," writer Jeff Loveness said in an interview with SFX magazine. "I'll just say he was inspired by Kevin Kline in A Fish Called Wanda and Frank Grimes in an old Simpsons episode — this really put-upon, selfish, entitled but then also deeply sad, insecure man who knows that he got a shit deal in life and is trying to make the best of it," Loveness added. "His ego will crumble the second he's challenged but then also like Kevin Kline in A Fish Called Wanda, he's pretty good at killing people... He's a real loose cannon character."
Created in 1967 by Stan Lee and Jack Kirby, M.O.D.O.K. is a ludicrous supervillain who was created to make readers both laugh at his freakishness and also lament that very freakishness. He's also an ultra-powerful telepath and a prominent member (and the occasional leader) of one of the most important fictional crime organizations/tech producers in Marvel Comics, A.I.M. (Advanced Idea Mechanics). A.I.M. is a branch of the fictional Nazi/terrorist organization HYDRA. A.I.M. hasn't been heard of in the MCU since Iron Man 3, so M.O.D.O.K.'s inclusion in Ant-Man and the Wasp 3 could usher in a new chapter for A.I.M. in the MCU.
Thus, M.O.D.O.K. needs to strike the difficult balance between malevolent and melancholy, silly and scary — which is tough for anyone to get right. One of the reasons why M.O.D.O.K.'s claymation series on Hulu, starring Patton Oswalt, worked so well was because he was depicted as a stubborn, egocentric mutated brat with an impulsive need to escalate and explode, but also as a man with love for his wife and his two kids, struggling through a divorce while trying to maintain his street cred as a villain. M.O.D.O.K. on Hulu wound up being canceled after one season, both due to lack of marketing and due to its lack of a direct connection to the MCU, which gave fans little to no reason to care about the stakes in the story.
The MCU will have to ensure that M.O.D.O.K. is as memorable as Kang the Conqueror in Ant-Man 3 if they are to keep him or his A.I.M. legacy in the franchise. Thankfully, Stoll has the chops to make a live-action M.O.D.O.K. work for the MCU. Known best for portraying Mike Prince in Billions, Ephraim Goodweather in The Strain, and Rep. Peter Russo in House of Cards, Stoll has extensive on-screen experience playing broken men who put their careers ahead of their personal lives — often in monstrous ways, and sometimes in tragicomic ways. If there's anyone who can tackle M.O.D.O.K.'s many facets, it's Stoll.
Stoll and Majors join Ant-Man regulars Paul Rudd (Scott Lang), Evangeline Lily (Hope Van Dyne), Randall Park (Jimmy Woo), Michelle Pfeiffer (Janet Van Dyne), and Michael Douglas (Dr. Hank Pym), along with newcomers Kathryn Newton (Cassie Lang), William Jackson Harper (Quaz), Katy M. O'Brian (Jentorra), and Bill Murray (Krylar).
Ant-Man and the Wasp: Quantumania debuts in theaters on Feb. 17, 2023.