That Stan Lee quote in Marvel's new trailer reveals a disturbing MCU truth
Lee lived a life making heroes. In his death, he didn't have one of his own.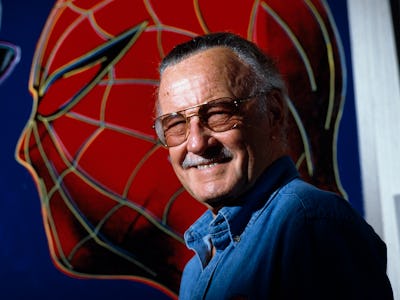 EVAN HURD PHOTOGRAPHY/Corbis Historical/Getty Images
The late, great Stan Lee was a complex figure with an even more complex legacy. While he is often credited for "creating" the Marvel Universe, the truth is that no one creates a world alone. And for all the attention and admiration Lee had late in his life after his imagination became the source of a multi-billion movie franchise, he wasn't safe from severe elder abuse that plagued him until his death in 2018.
Now, as the Marvel Cinematic Universe enters a new era with a long-awaited return to theaters, the Disney-owned Marvel Studios has evoked Lee's spirit in a way that initially reads as heroic and uplifting, but is actually more upsetting than it appears.
What Happened? — On May 3, Marvel Studios released a sizzle reel titled "Marvel Celebrates the Movies" to commemorate a return to theaters since the Covid-19 pandemic. The reel is also a chance for Marvel to promote its next slate of movies — including Eternals, Thor: Love and Thunder, Doctor Strange in the Multiverse of Madness, Eternals, and Shang-Chi and the Legend of the Ten Rings (a movie Inverse reported Stan Lee wanted to produce).
Lee's voice guides us through the reel:
"The world may change and evolve. But the one thing that will never change, we're all part of one big family. That man next to you, he's your brother. That woman over there, she's your sister. We're all part of one universe that moves ever upward and onward to greater glory."
Where does this Lee speech come from? The origins of the speech come from a Marvel social media video released in October 2017. The video sees Lee delivering an anti-hate speech some weeks after the Unite the Right rally in Charlottesville, Virginia, during which 32-year-old Heather Heyer was killed in a vehicular attack.
The full transcript of Lee's speech is below, with the text in bold denoting what's heard in the recent sizzle reel:
"Hi, heroes! This is Stan Lee coming at ya. Just want you to know, Marvel has always been and will be a reflection of the world outside your window. That world may change and evolve. But the one thing that will never change is the way we tell our stories of heroism. Those stories have room for everyone, regardless of their race, gender, religion, or color of their skin. The only things we don't have room for are hatred, intolerance, and bigotry. That man next to you, he's your brother. That woman over there, she's your sister. And that kid walking by you, hey, who knows, he may have the proportionate strength of a spider. We're all part of one big family, the human family. And we all come together in the body of Marvel. And you, you're part of that family. You're part of the Marvel Universe that moves ever upward and onward to greater glory. In other words, excelsior!"
For the purposes of its Phase Four hype-up video, Marvel Studios edited and condensed Lee's original speech to the point that any trace of its anti-bigotry messaging has been scrubbed clean. It is now a more generic message that beckons (paying) audiences back to movie theaters.
It is also morbid how Marvel Studios uses Lee's voice when Disney had little involvement to care for Lee, who was besieged by profit-seeking controllers in his final days. In what is almost industry standard practice, Lee was kept to the outer rims of all the movies and TV shows that bore his creations and received only "a modest annual salary." Though Lee is often credited as "executive producer" on gargantuan movies like Avengers: Endgame, the credit existed "mainly to keep loyal Marvel superfans from storming the studio gates," wrote AARP in 2020.
Stan Lee's legacy is full of heroes and villains, not unlike Marvel's own comic books. While Lee was far from a saint himself, he still cared to use his platform to call out racism and bigotry in a time silence was favorable. That Lee was still denouncing hatred 50 years after launching his so-called "soapbox" speaks to his Avengers-worthy moral character. Even after death, Lee's words still resonate as the Covid-19 pandemic led to a disturbing spike in racially motivated attacks against people of Asian descent.
With the MCU marching forward, millions can comfortably say that they had a hero in Stan Lee. If only Stan Lee had a hero of his own.