Mandalorian Season 3 trailer reveals our first look at Mandalore
The planet's fate has always been a mystery — until now.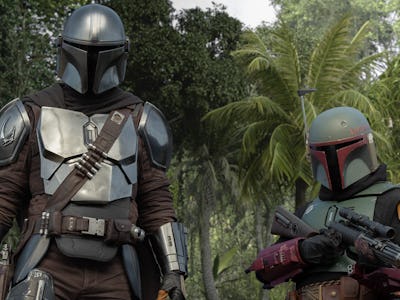 The Mando+ panel at Star Wars Celebration looked more like The Last Supper than a convention panel. Fourteen different seats stretched across the stage for a discussion of The Mandalorian and Ahsoka. Soon they were filled with Dave Filoni, Jon Favreau, and not one, not two, but three different iterations of Din Djarin himself — Pedro Pascal, Lateef Crowder, and Brendan Wayne. Along with Katee Sackhoff, Carl Weathers, and Emily Swallow.
Together, they introduced a full Mandalorian Season 3 trailer exclusively for the panel's audience, and it was such a shock the crowd demanded to see it again. Inverse was there to pass along just what it included.
Mandalore Returns
The trailer was an extended version of the one shown to the Lucasfilm Studios Showcase on Thursday, but the bonus content was immense. The biggest cheer of all came from an aerial view of a planet that looked in ruins, but it was unmistakeably Mandalore.
This isn't a huge surprise, we've known Din Djarin has wanted to return to Mandalore since he was ousted from the the Children of the Watch back in The Book of Boba Fett. But this is the first evidence he'll be traveling to the literal Mandalore, not some metaphorical stand-in. Whe real Mandalore isn't the friends we made along the way — we're getting the real thing.
If Mando is successful in his quest to be cleansed in the Living Waters, then The Mandalorian will become The Mandalorian again, cementing himself the leader of his kind and the bearer of the Darksaber.
Old Friends — and New Ones
Heyy Heyyyyy! The best part of the sequels, tiny mechanic Babu Frik, made a brief appearance in the trailer, as did Kowakian monkey-lizards. Greef Karga and Peli Motto both are coming back for Season 3, and Bo-Katan Kryze had a major role, referring to Din's "cult" giving up on Mandalore. Could she be the new Big Bad?
There also were countless Mandalorian characters, including what seemed to be Mandalorian paratroopers jumping out of a ship, and the Armourer hitting someone over the head with a hammer. It looks like Mando is about to fulfill the prophecy and unite the two sects of Mandalorians, much to Bo-Katan's chagrin.
To fans, that means one thing — more awesome Mandalorian characters to know and love. The Mandalorian family is getting bigger, but family is what it's all about.
The Mandalorian returns Spring 2023.