A New Star Wars Show May Explain the Strangest Part of The Mandalorian Season 3
There were a lot of strange choices in Episode 1, but one may be setting up a future villain.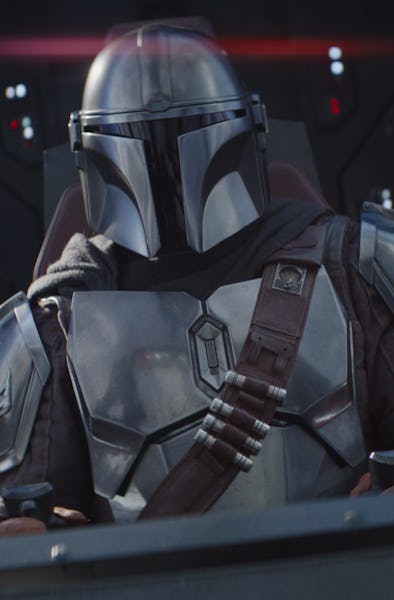 The Mandalorian Season 3 started with a bit of a stumble. After a two-year hiatus, the show returned with a frantic 35-minute premiere episode that hastily tied up loose ends. We got the answer to what happened with Bo-Katan, how Cara Dune had been written off, and how much Grogu has grown. Smashed into all these answers was a half-baked plot about space pirates and a seaweed alien.
But this storyline could have been more than just an excuse to fit a dogfight into the first episode of Season 3. It could actually be setting up one of the most exciting Star Wars projects on the horizon.
According to the Bespin Bulletin, the upcoming series Skeleton Crew will feature the pirates seen in The Mandalorian as major antagonists. That includes Gorian Shard, the green guy teased as the leader of the gang Mando encounters in Episode 1. This is still a rumor, but it does make sense, as their inclusion in The Mandalorian felt more like a tease of future developments than a proper villainous plot.
We don't know much about Skeleton Crew aside from the fact it stars Jude Law, but rumors say it will be a youth-focused show, more like Star Wars' answer to Stranger Things than another Mandalorian clone. However, introducing its main villains in a small Mandalorian role could help it get off the ground. It won't just be a standalone series like Obi-Wan Kenobi, but an adventure that already has ties to the Mandalorian universe.
We've seen space pirates throughout Star Wars TV. Even Bo-Katan Kryze, who plays a huge role in The Mandalorian Season 3, was introduced with a pirate adventure in Season 2. Space pirates are a tried and true concept, and exploring them beyond their stock traits in Skeleton Crew could make for interesting television.
Details surrounding the show may be sparse, but the combination of Jude Law, young protagonists, and space pirates could harken back to what made Star Wars so fascinating all the way back in the '70s. Sometimes all you need to have fun is a kid going on adventures with a British guy and a goofy looking alien.
The Mandalorian Season 3 Episode 1 is streaming on Disney+.