Mandalorian documentary release date, trailer, episodes, schedule for Disney+ doc
Baby Yoda returns! Here's everything we know about the documentary series on the hit Disney+ show.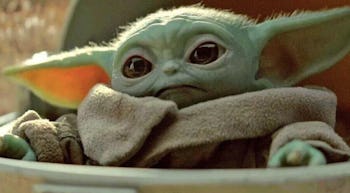 This article about Season 1 of Disney Gallery: The Mandalorian was originally published on April 15, 2020 and updated on October 9, 2021 following the release of the season on Disney+. Read on for the original article, with some new changes to reflect the latest updates on this topic.
While Star Wars fans had to lie in wait between seasons of The Mandalorian, Disney provided a special treat in the interim. Titled Disney Gallery: The Mandalorian, the eight-part documentary series took viewers behind the scenes of the hit Emmy-nominated show. Here's everything to know about the series.
What was the release date for the Mandalorian documentary?
Disney Gallery: The Mandalorian premiered on Monday, May 4, 2020. on Disney+. (For the uninitiated, May 4 is "Star Wars Day" because "May the Fourth" sounds like "May the Force... be with you.") The second episode then aired four days later on May 8, then recurred weekly until June 19.
Is there a trailer for the Mandalorian documentary?
Yes! Check out the official trailer here for some Mandalorian goodness.
How many episodes were in the Mandalorian documentary?
There are eight episodes in total.
What is the Mandalorian documentary about?
Each episode of Disney Gallery: The Mandalorian focuses on a different facet of The Mandalorian and includes interviews, unseen footage, and roundtable conversations hosted by Jon Favreau. According to a Disney press release:
"Disney Gallery: The Mandalorian is an opportunity for fans of the show to take a look inside and get to see a different perspective, and perhaps a greater understanding, of how The Mandalorian came together and some of the incredibly talented contributors throughout Season 1," Favreau said in a statement. "We had a great experience making the show and we're looking forward to sharing it with you."
The list of topics that will be covered includes:
The filmmaking process
The legacy of George Lucas' Star Wars
How the cast brought the characters to life
The series' groundbreaking technology
The artistry behind the show's practical models, effects, and creatures, plus the creative influences
The iconic score
Connections to Star Wars characters and props from across the galaxy.
Was there a Mandalorian documentary for Season 2?
Yes! Disney Gallery: The Mandalorian returned to cover Season 2 of the show, but not the same way as it did Season 1. Instead, it aired an hour-long special on December 25, one week after the Season 2 finale, functioning as more of a behind-the-scenes documentary rather than an episodic series. Eight months later, on August 25, 2021, a second special was released. The Making of the Season 2 Finale went in-depth into everything behind the final episode, most prominently that shocking de-aged cameo from Mark Hamill.
Both seasons of Disney Gallery: The Mandalorian are currently streaming on Disney+.
This article was originally published on