Justified: City Primeval Captures The Original's Lightning in the Bottle
They may not make shows like Justified anymore, but this standalone miniseries is about as close as it gets.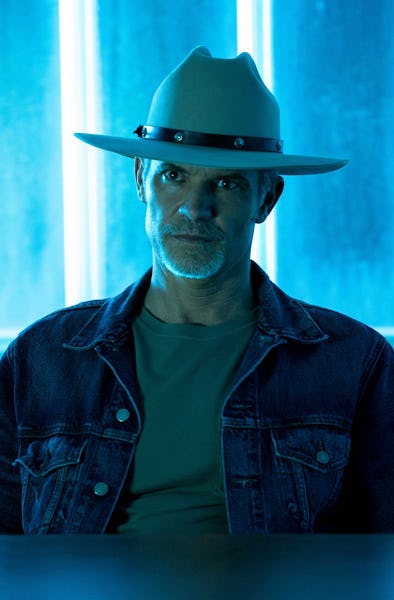 FX
They just don't make them like Justified anymore. The FX series cemented itself on the "Best TV of the 2010s" lists with its tour-de-force law enforcement stories helmed by the steely-yet-hip Timothy Olyphant. It gave us "We dug coal together," "Next one's coming faster," and some of the most perfectly crafted season-long arcs in television history.
The series came to a satisfying end in 2015 after six seasons, but that didn't stop sequel series Justified: City Primeval from plucking Raylan Givens from Harlan County and dropping him in the middle of a Detroit murder mystery. Thankfully, this is an exhumation that's well worth it.
It's best to view City Primeval as its own series, because that's essentially what it is. Like Justified, it's based on an Elmore Leonard book, but not one that Raylon appeared in. It's got the same seedy underbelly, but this time it's in the concrete jungle instead of the Kentucky mountains. Raylan adapts quickly, and does what he does best without thinking twice: delivering justice his way.
Timothy Olyphant slides back into the role of Raylan like it's a comfortable pair of boots, and his grounded attitude is equaled in a new supporting cast including Aunjanue Ellis as a no-nonsense lawyer and Boyd Holbrook (who's name was just begging for a role in Justified) as Clement Mansel, the perfect villain for Raylan to chase.
One of the most exciting additions to the cast is Vivian Olyphant as Raylan's daughter Willa. This isn't a nepo baby role — the tense chemistry she has with her real-life father isn't something that could be replicated with any other actor. She's not the best actor, but that doesn't matter: she knows how to bounce off her dad's energy and, by extension, counteract Raylan's usually cold demeanor.
It didn't feel possible for a sequel series for Justified, outside the familiar Southern setting and without the showrunning talents of Graham Yost (who is now helming the surprise Apple TV sci-fi hit Silo) to continue the story in an organic way. Still, Michael Dinner understood the assignment in front of him: to continue Raylan's story without becoming too distanced or too close to the original.
This isn't the nostalgic sequel that trots out a parade of original cameos or makes too many sly references to how times have changed since the original. Sure, Raylan's personal style of law enforcement gets him in hot water, but that's always happened. Classic characters aren't forced into the story. Instead, classic Raylan moments keep the nostalgia strong while he strikes forward on a new adventure.
Reboots are a hard needle to thread, and there will always be haters who admonish any attempt to replicate what once existed but has inevitably changed. But to bastardize a quote by Raylan himself, "If you see a bad reboot in the morning, you saw a bad reboot. If you see bad reboots all day, you're just a hater."
City Primeval should be studied in film schools as the perfect way to revive a series: find a source material with a similar tone but entirely new surroundings, keep one single character the same, and find a cast of actors who are perfectly suited for the material.
This isn't just a bone thrown to patient and passionate fans of the original series — it's a great limited series and could even be a great watch for someone who knows Timothy Olyphant best as The Mandalorian's Cobb Vanth. Hopefully, it'll spawn a new generation to go back and watch Raylan on his own turf and give Justified its well deserved Breaking-Bad-style revitalization.
Maybe they do make them like Justified now. Just not exactly the same.
Justified: City Primeval premieres July 18 on FX.