Joker 2 Could Expand on The First Movie's Most Famous Scene
Here's hoping for another dance number.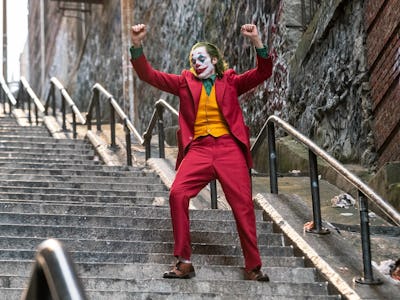 Warner Bros.
It's hard to keep a good clown down, and the sequel to Todd Phillips' Joker — titled Joker: Folie à Deux — is taking that to heart by bringing back the location where Arthur Fleck first became the Clown Prince of Crime.
Back in 2019, no one really knew what to expect from a solo Joker film directed by the architect of The Hangover movies. Certainly, no one could have foreseen the film's massive commercial success (the first R-rated film to ever cross $1 billion at the box office), nor its 11 Academy Award nominations, including wins for both Joaquin Phoenix and composer Hildur Guðnadóttir.
Of course, with that kind of success, it didn't take long for Warner Bros. to confirm a sequel. Last May, it was revealed that the film would indeed be receiving a second installment, but over the last few months that news has spiraled into a bewildering premise that no one could have predicted: Folie à Deux will be a psychological thriller musical, and what's more, none other than Lady Gaga will be playing Dr. Harleen Quinzel. A musical seems like a complete 180 in direction from the original film, but for fans of the first film, there will be at least one iconic element returning.
Set photos for Joker: Folie à Deux show Lady Gaga in a lush black coat ascending the same stairs that Arthur descended after murdering two people in the first film. The stairs are probably the most recognizable locale from Joker, which reimagined Gotham City in the grimy, callous urban decay of New York City in Martin Scorsese's Taxi Driver. Considering that Harley traditionally falls in love with The Joker while trying to psychoanalyze him in Arkham (although rumor has it that Gaga's version will be a fellow inmate instead of a psychiatrist), it's a safe assumption that here she's either retracing his steps to better understand the man, or following in them after having already fallen head over heels for him.
Alongside her trip up Memory Lane, leaks from set revealed Gaga singing bits and pieces from Fred Astaire (whose music featured briefly in the first film) and Judy Garland. While this does lightly confirm that the movie will be a musical, it's highly unlikely that it will be fully sung-through (think Hamilton), versus musical interludes like the Wayne Enterprises employees on the train in the first film. Perhaps Joker's iconic staircase scene could get the full-fledged musical treatment in the sequel.
Even if the film isn't a complete musical, it's still a bold and audacious step for a franchise that started as an overly committed love letter to two Scorsese pictures. If Joker felt too familiar to be groundbreaking, then Folie à Deux might be rectifying that by giving audiences a new vision of what superhero (and villain) entertainment can sound like.
Joker: Folie à Deux is scheduled to hit theaters on October 4, 2024.