John Wick: Chapter 4 Trailer Pits Keanu Reeves Up Against New Management
Yeah, we're thinking he's back.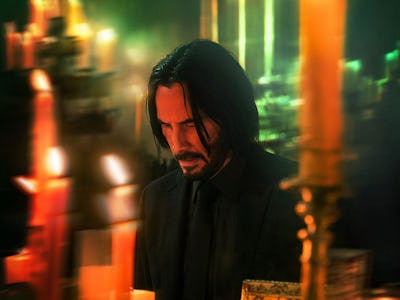 He's gonna need a gun. Lots of guns.
The world's most dangerous assassin is back for one more round in John Wick: Chapter 4, and this time, he's taking on the High Table. Keanu Reeves dons the bulletproof suit once again to fight all manner of foes and a few martial arts legends. But his most powerful enemy is the new leader of the High Table, Marquis de Gramont (Bill Skarsgård), whom he must challenge to single combat in order to finally be free of this underworld of assassins once and for all.
The fourth John Wick film picks up after John Wick was shot by his ally and Continental Hotel manager Winston Scott (Ian McShane) at the end of John Wick: Chapter 3 – Parabellum. When John Wick is saved by the Bowery King (Laurence Fishburne), they vow vengeance on the High Table, who preside over the whole assassin underworld. And in John Wick: Chapter 4, we get to see that vengeance play out. See how, in the new trailer below.
If we're talking escalation, the John Wick movies are it. What started as a brutal, singular revenge flick turned into one of the most elaborate cinematic underworlds of all time — one that adds even more exciting martial arts movie legends with each installment. Want to see Keanu Reeves duel Donnie Yen (Rogue One) with guns and katanas? Check. How about seeing Hiroyuki Sanada (Westworld, Mortal Kombat) carve out a spot in the franchise after reportedly missing out last time? You got it. Well, how about seeing B-movie darling Scott Adkins don a fatsuit? Check and mate.
This new trailer is much more action-packed than the last, showing John Wick shoots his way through yet another neon-lit club in a fight for his freedom, promised to him by Skarsgård's Marquis de Gramont. But only if he wins in a single-combat fight against the Marquis — after fending off many other dangerous assassins, of course.
In John Wick: Chapter 4, "​​John Wick (Keanu Reeves) uncovers a path to defeating the High Table. But before he can earn his freedom, Wick must face off against a new enemy with powerful alliances across the globe and forces that turn old friends into foes."
Directed by Chad Stahelski and written by Michael Fincha dn Shay Hatten, John Wick: Chapter 4 also stars Donnie Yen, Laurence Fishburne, Hiroyuki Sanada, Shamier Anderson, Lance Reddick, Rina Sawayama, Scott Adkins, and Ian McShane.
John Wick: Chapter 4 will open in theaters on March 23.