Does John Wick: Chapter 4 Have a Post-Credits Scene? A Spoiler-Free Guide
Is this the last time John Wick checks in to the Continental?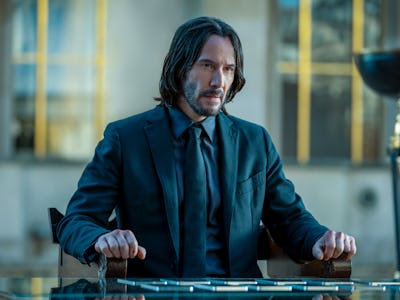 Lionsgate
Welcome back to the Continental.
John Wick: Chapter 4 is here, with Keanu Reeves and director Chad Stahelski once again teaming up for the R-rated action event of the year. While John Wick's war with the High Table seems to finally come to an end in Chapter 4, the world of John Wick undoubtedly keeps on spinning.
With the spin-off movie Ballerina currently in the works, as well as a limited series prequel The Continental for Peacock, John Wick: Chapter 4 will not be the last time audiences explore John Wick's underworld of assassins. Because this is the age of franchise universes, it begs the question: Does John Wick: Chapter 4 have a post-credits scene?
Strap in. This is your spoiler-free guide to the end of John Wick: Chapter 4.
Warning: Minor spoilers for John Wick: Chapter 4 ahead.
So, does John Wick: Chapter 4 have a post-credits scene? Yes! There is a bonus scene that teases the continuation of a key story thread that isn't fully resolved in the movie's main plot.
No spoilers here about who is in it and what it entails. But we can say the post-credits scene teases a story that upholds the franchise's tradition as a saga about revenge, and the never-ending bloodshed it entails.
While the John Wick franchise has expanded with multiple spin-off projects planned, there aren't any known plans for the specific characters involved in the post-credits scene. Their story may resume in John Wick: Chapter 5, which is on the docket from studio Lionsgate.
However, Stahelski recently told The Hollywood Reporter that he's in no rush to make that fifth John Wick movie anytime soon.
"In our minds, Keanu and I are done for the moment," Stahelski told THR. "We're going to give John Wick a rest. I'm sure the studio has a plan. If everyone loves it and it goes kooky, then we'll take a quiet minute." Stahelski joked that he and Keanu Reeves will reconvene in Japan (a market where the Wick movies tend to release far later than domestically) and ultimately change their minds.
"Keanu and I will take the long trip to Tokyo, we'll sit in the Imperial Hotel Scotch Bar and go, 'What do you think?' We'll have a couple 20-year-old whiskies and write some ideas on napkins. If those ideas stick, maybe we'll make a movie."
Regardless if John Wick: Chapter 5 happens sooner or later, or never at all, the post-credits of Chapter 4 prove one thing: Violence never ends.
John Wick: Chapter 4 will open in theaters on March 24.