John Wick 5 Could Still Happen — But There Would Be a Twist
"It won't be like six months later from John Wick 4."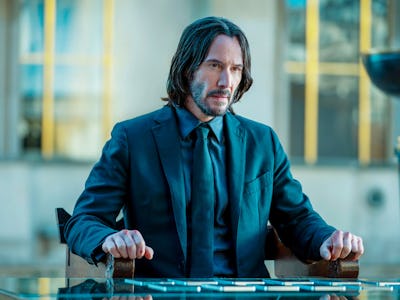 Lionsgate
Despite Keanu Reeves' reluctance to return to the franchise, the door is still open for a fifth John Wick film. Producer Basil Iwanyk, at least, is hopeful: though Reeves apparently "begged" to see his character definitively retired in John Wick: Chapter 4, he was willing to compromise and left an opportunity for Wick to return.
"We all want another John Wick," Iwanyk told Collider, and director Chad Stahelski may also be down for a fifth installment. Nothing is officially in the works — and Iwanyk doesn't want to force the issue — but there's still a chance Wick's story could continue in a John Wick 5.
Even if Reeves, Stahelski, and Iwanyk do get on the same page about a sequel, they'll likely put some distance between it and the first four Wick films. Iwanyk views the franchise as one "book" in a potential series. "If these movies were four chapters, you kind of blame it on the metaphor," the producer told ScreenRant. "If there is another John Wick movie, which I do believe there will be ... I do feel like it will be a completely other book."
Additionally, John Wick 5 could be set away from its predecessors. "It won't be like six months later from John Wick 4," Iwanyk continued, suggesting the next "book" in the saga could take place after a significant time jump.
Nothing's set in stone, but it would definitely be wise to set a fifth film well after the fourth (or well before the first). The John Wick films have all seamlessly bled together — John Wick 3 picks up mere minutes after John Wick 2 — but 4 had a definitive conclusion. A new story should start fresh, and find a convincing way to work around 4's ending without undermining it.
John Wick 5 doesn't have to take place decades after Chapter 4. A two-or-three-year gap could be just the reset the franchise (and Reeves) needs to keep going. It may also give Wick spin-offs like Ballerina the space they need to breathe. Wick's world keeps getting bigger, but there's no rush to keep the story going. As long as Reeves is willing to return, the saga can continue... someday.