Indiana Jones 5 Trailer Confirms the Franchise Is Ending for Good
Indiana Jones and the Dial of Destiny sees our hero put off retirement to go punch Nazis one last time.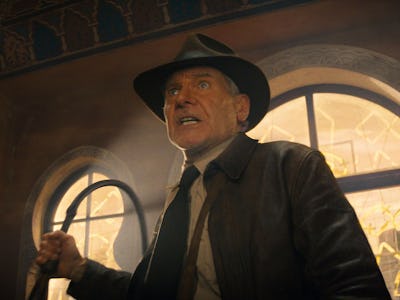 Lucasfilm
After the critical and cultural lashing taken by Indiana Jones and the Kingdom of the Crystal Skull almost 15 years ago, it seemed like there were no more adventures left to be had by everyone's favorite archaeology professor, but the newest trailer for Indiana Jones and the Dial of Destiny shows that he still has some gas in the tank. Taking place 32 years after The Last Crusade, Indy finds himself in a world that's changed drastically since World War II. One of those changes is the presence of ex-Nazi scientists working for the American government, a real-life historical event the good prof isn't keen on.
Of course, like in any good Indiana Jones adventure, fate comes knocking, this time in the form of the fresh face of Helena Shaw (Phoebe Waller-Bridge), the daughter of an old friend of Indy's who once helped him infiltrate a Nazi castle back in 1944. That past excursion turns out to not be the ancient history Indy thought it was, and the involvement of ex-Nazi commander Jürgen Voller (Mads Mikkelsen) sends Indy and Helena on a globe-trotting adventure for a legendary artifact that just might have the power to change the course of history. The new trailer gives a brief glimpse at Indy's secret final mission in the last days of the war, his current odyssey alongside Helena, and the Dial of Destiny itself.
The trailer, set to a bombastic arrangement of John Williams' original score for Raiders of the Lost Ark, introduces us to an Indy at the end of his tenure at Marshall College, when he's approached by Helena and enticed by the promise of adventure. From there, we get a few brief glimpses at some of the action setpieces in store, including an escape through the streets and subways of New York.
While Kingdom of the Crystal Skull was a silly mess, the presence of James Mangold in the director's chair promises a triumphant and satisfying conclusion to Indy's story, one unafraid of diving into the uncomfortable truth of stories like Operation Paperclip. Indiana Jones and the Dial of Destiny looks like a nostalgic love letter to one of cinema's most recognizable treasure hunters, but it also seems prepared to interrogate the context of Indy's adventures, and the shifting tides of a world that's far more complicated than it was in the good old Nazi-punching days.
Indiana Jones and the Dial of Destiny releases in theaters on June 30.