Edgar Wright's Most Underrated Thriller is Now Streaming For Free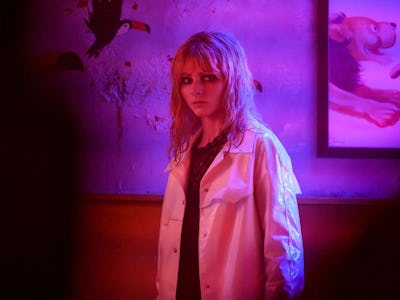 Focus Features
In our era of massive franchises and interchangeable directors, finding a filmmaker with a specific style is something special. David Fincher, Wes Anderson, David Lynch: they're all members of a small group whose work is instantly recognizable.
Edgar Wright is one of those directors. He started in the British alt-comedy scene, then quickly made a name for himself with movies like Shaun of the Dead and Hot Fuzz. In recent years, he's moved away from comedy and created some of his most underrated works, including a luscious, decades-spanning horror mystery that's now free to watch on Amazon.
Last Night in SoHo is about young fashion student Ellie Turner (Thomasin McKenzie), a small-town girl obsessed with the 1960s. Pursuing her fashion dream in London, she moves into a shady apartment owned by Ms. Collins (Diana Rigg). There, she has a vivid dream where she inhabits the body of Sandie (Anya Taylor-Joy), a young, bright-eyed aspiring singer from the '60s who falls under the charms of manager Jack (Matt Smith).
As Sandie's world and Ellie's world slowly collide, Ellie finds herself on a mission to discover just what happened to Sandie, and why her dreams are getting darker and darker.
Wright's visual style is on full display here. Ellie's first dream is a complex dance sequence that alternates seamlessly between Ellie and Sandie. This scene was made with only one edit and very few digital effects thanks to Texas switches, a technique where one actor steps in for another as soon as they leave the frame.
"The idea was, the longer we can keep these shots going, the more immersive it will be," Wright told Polygon. "You feel like you're living vicariously through her. It's about not breaking the spell. It's like we're showing you a reality of something, even if what we're showing you is very fantastical."
Like in Scott Pilgrim vs. The World and Baby Driver, Wright captures a unique, youthful tone that's hard to come by in movies. Ellie's little bedroom lies under a neon light that oscillates between red and blue, a Giallo-esque touch that gives the entire film an artificially colorful vibe echoing the artificial world Sandie inhabits.
The late psychological horror twist may take the film to far darker places than the cinematography depicts, but that only heightens the dissonance. It's a love letter to SoHo and the 1960s that acknowledges their dark sides. Just like the cautionary movies of Old Hollywood, it lifts the curtain on what chasing a dream means, but with an empowering subversion that favors the horror much more than the psychological.
Last Night in SoHo is a horror experience perfect for a dark October night: stylized and varied enough for fraidy cats, but still classically scary enough for the connoisseur. As Wright continues to experiment with his craft, it remains well worth revisiting.
Last Night in SoHo is streaming on Amazon FreeVee.