The Hellboy Reboot Is Real, and It Sounds Like Folk Horror Meets The Batman
Director Brian Taylor is aiming for a younger Hellboy in a story creepier than before.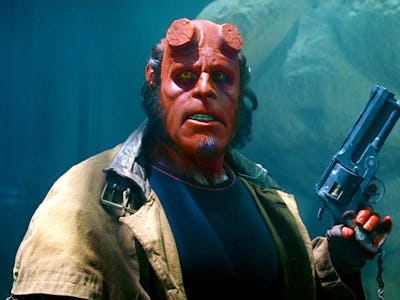 Universal/Dark Horse Comics/Kobal/Shutterstock
Hellboy is getting resurrected for the big screen, again, but this time the filmmakers intend to follow Mike Mignola's comic books more closely — and with a new Hellboy not seen onscreen before.
In an interview with Collider, director Brian Taylor confirmed that the next reboot of Hellboy, titled Hellboy: The Crooked Man — based on a script by creator Mike Mignola and author Christopher Golden — will closely adapt the 2008 comic book miniseries of the same name.
"We started with a draft by Mike and Chris. Funny enough, a lot of what I'm doing is trying to bring it even closer to the original comic book than what they did," Taylor told Collider. "A comic book will never directly translate to the screen, but I will tell you that my intent in the movie is to really honor and bring to life the original comics."
Taylor further added he's aiming for an R rating, as that's what the material is suited for. "I pitched an R-rated folk horror movie and the team here at Millennium have been nothing but supportive," he said. "[T]his original material is dark and scary and violent and adult. So in order to really embrace that, we just don't wanna have any handcuffs on."
News of another Hellboy reboot came last week, when Discussing Film reported that Millennium Media is actively seeking to retain the movie rights to Hellboy by producing a new film. Because the 2019 reboot starring David Harbour fared poorly with critics and audiences, The Crooked Man will try to start Hellboy fresh. Again.
Talking to Collider, Taylor praised the Hellboy movies by Guillermo del Toro while proclaiming The Crooked Man as its own thing. Taylor goes as far to say the comic he's adapting is his single favorite story in Hellboy and "is just such an iconic book."
"I love the character of Hellboy and my favorite run of the character is this particular era," Taylor said. "More lean and mean, creepy folk horror. A younger Hellboy, wandering the dark corners of the world."
In the original "The Crooked Man" comic, the action takes place in the 1950s, with a younger Hellboy confronting a servant of the devil in rural Appalachia.
While moviegoers are familiar with Hellboy by now, Taylor alluded to how his version of Hellboy will stand out. Again going off from "The Crooked Man" storyline, Taylor's film will likely star a younger actor than Ron Perlman or David Harbour when they played the role. One might think of this Hellboy as like Robert Pattinson's Batman: Not a rookie, but not quite a legend either.
"For me it's my favorite version of the character," Taylor said. "So the appeal of this one to me, is to go back to that and do a real reset, and really give us that version of Hellboy, which I just don't think we've seen yet."
While there's still no known frontrunner to play this younger Hellboy, what will really determine the fate of this franchise is Taylor's ability to execute on his vision, or if this franchise is doomed to stay the ninth circle of hell without del Toro and Perlman.