Before the MCU, Ghostface Killah Made Iron Man Cool
In return, it almost got the Wu-Tang rapper a cameo in the 2008 movie.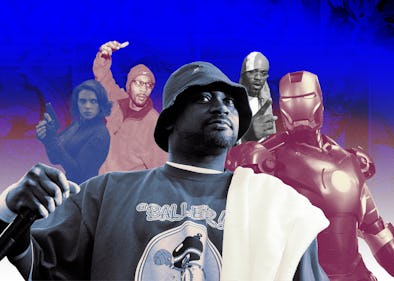 Dewey Saunders/Inverse, Marvel Studios, Getty Images
In the winter of 2000, Ghostface Killah returned from a long period of turmoil to deliver his masterpiece. The years since his solo debut, 1996's Ironman, had been wrought with trauma for the reclusive Wu-Tang Clan fire-breather. Sickened with diabetes, he battled debilitating headaches and dizziness and thought he might be dying. In 1997, the rapper (born Dennis Coles) traveled to West Africa, where he received natural treatments from a bush doctor. Then, in 1999, he was forced to plead guilty to a trumped-up attempted robbery charge from years earlier and served four months behind bars in Rikers Island.
Like a superhero, he emerged from the near-death abyss stronger than ever. In the early months of Y2K, Ghostface released Supreme Clientele. Arguably the greatest of Wu-Tang solo albums, Supreme Clientele is a wild tapestry of blasted-out beats and head-spinning, free-associative rhymes that could fit in no other rapper's mouth. But when fans eagerly popped the CD into their Discman, it wasn't Ghostface's voice that greeted them. It was… a grainy jingle about Iron Man lifted from the 1966 Marvel Super Heroes TV cartoon?
"Tony Stark makes you feel/He's a cool exec with a heart of steel/As Iron Man, all jets ablaze, he fights and smites with Repulsor Rays!"
Ghostface had been calling himself "Ironman" for years, even using it as the title of his first solo album. But on Supreme Clientele, he wholly embraced the mythology and iconography of the Marvel superhero Iron Man (aka, business magnate Tony Stark), "the armor-clad superhero of the free world" who survives a kidnapping attempt and builds a suit of armor that gives him superhuman strength. Throughout the album, Ghost weaves in soundbites from the old '60s cartoon ("Tony Stark fights again for survival…"), a change of pace from Wu-Tang's usual kung-fu movie samples, and he rhymes about the outlandish exploits of Tony Starks (yes, plural), the rapper's alter-ego, modeled upon Iron Man.
"Being a powerful thinker alone makes me Iron Man," Ghostface told SPIN in 2000. "It's not always just the muscle tip — 'cause I ain't got no muscles and shit."
For Ghostface, Tony Starks isn't just a nom de plume. It's a rich, cross-cultural grounding for his gritty storytelling, a bridge between hip-hop and comics, two uniquely American art forms that haven't always been taken seriously by critics. Ghostface's decades-long immersion in Iron Man mythology introduced a new generation to the Marvel superhero, foreshadowed other rappers' Marvel-inspired alter-egos, and paved the way for Iron Man's arrival on the big screen — a movie in which Ghost very nearly had a cameo.
How Ghostface Killah became Tony Starks
Like his namesake, Tony Starks is hard as steel, a New York icon (hailing not from Manhattan but the grittier environs of Staten Island) prone to death-defying feats of strength and a flamboyant lifestyle. As RZA raps in the intoxicating "The Grain," "Tony Starks make the narc's dogs bark/With the Benz parked/Up against the boulevard." Later on, in "Iron's Theme (Intermission)," Ghost links Iron Man's heroism with a mission of racial justice and Black power: "Wu-Tang Clan and Iron Man/Lead us to the promised land." Additionally, both he and the Marvel character have battled poor health (Tony Stark is known for his alcohol issues and failing heart).
Ghostface wasn't much of a comics nut growing up, though some of his Wu-Tang bandmates were. According to Stereogum, Method Man was "one of those guys who has a subscription box at his local comic book store." RZA has also been known for the occasional comic-book reference; on "Wu-Tang Clan Ain't Nuthing ta Fuck Wit," he compares himself to Marvel supervillain Doctor Doom. And, on GZA's Liquid Swords album, Ghostface rhymes, "Iron Man be sippin' rum out of Stanley Cups" — a play on Marvel godfather Stan Lee.
Arguably, the Wu-Tang Clan's embrace of Marvel characters paved the way for a rich intermingling between hip-hop and comic book culture, a phenomenon best epitomized by another masked rapper, MF DOOM, who based his name and persona on Doctor Doom and routinely chopped up samples from vintage superhero cartoons.
No one seems to know exactly when or why Ghostface developed a kinship with Iron Man. (The enigmatic rapper rarely talks to press and did not respond to interview requests.) In his book The Wu-Tang Manual, the RZA explains: "Ghostface is also Iron Man, and always has been. That's because he was known as being very strong in the streets."
"I couldn't see Ghost being a Captain America type or the more squeaky-clean characters."
"Tony Stark [is] a very flawed character — he's a womanizer, he's a recovering alcoholic. He has this piece of metal in his chest that's moving ever closer towards his heart and can potentially kill him," explains writer and critic Dean Van Nguyen, author of Iron Age: The Art of Ghostface Killah. "To maintain such a close association with the character, you have to think there were elements of him that [Ghostface] identified with — the gregariousness of Tony Stark, the flawed nature of him."
Van Nguyen adds, "At the end of the first Iron Man is when Tony Stark comes out and says, 'I am Iron Man,' deviating from the Spidermans and Clark Kents who want to live quiet lives outside their personas. I think that suits Ghost, who's very gregarious. I couldn't see Ghost being a Captain America type or the more squeaky-clean characters. They just don't seem to suit his personality."
In his book, Van Nguyen notes that Marvel situated its superheroes in a slightly distorted version of New York rather than in the fictional cities associated with DC heroes like Superman and Batman. That suits Wu-Tang, the ultimate gritty NYC rap crew. "The worlds Ghostface builds, they're just these fantastic, colorful worlds," Van Nguyen tells Inverse. "If you think about the Marvel version of New York, it seems a much more appropriate place for a rapper persona than the real New York."
The Iron Man cameo that wasn't
When screenwriter Mark Fergus began co-writing Iron Man (2008), it didn't seem like people cared about Tony Stark.
"No one gave a shit about this character when we made the movie," says Fergus, who worked on the screenplay with his writing partner Hawk Ostby. "Tony was one of the lower-tier Marvel guys. He wasn't cool."
The screenwriter soon realized that Ghostface Killah had been raising the cultural profile of Iron Man for years, making the Marvel character vital to a new generation of hip-hop heads. "Ghostface was plugged into the Tony of it all — the magic of that — long before [the movie]," Fergus says. "I'm sure that's why Jon [Favreau] thought of it and immediately wanted to tie that in."
"It was just one of those great scenes that we had to let go."
Perhaps it was inevitable that Ghostface would land a cameo in the movie. Fergus and Ostby were tasked with writing a scene in which Tony Stark (Robert Downey Jr.), reimagined as a 21st-century weapons tycoon in search of moral redemption, throws a star-studded party in Dubai just before he goes off to fight evil as Iron Man. According to Fergus, director Favreau wanted to bring some recognizable pop culture figures into the movie, and Ghostface landed a brief appearance as himself in the party scene.
"Jon Favreau is big into all types of music," says Fergus. "He likes cultural references and winks back at things, [like] with the Ozzy song ['Iron Man']. He got Tom Morello in there as one of the actors."
In the scene, Ghostface greets Tony as an old friend and reveals he's borrowed the business magnate's jet, which Tony casually brushes off. "I jumped in there for maybe 12 or 16 bars, nothing too major," the rapper later told an interviewer. "It was a good look for the kid because Robert Downey Jr. recognized me as soon as I seen him. He was like, 'Yo, Tony!'"
Unfortunately, the scene got cut for reasons that had nothing to do with Ghostface's performance. Editor Dan Lebental lobbied to remove the scene because it interfered with the movie's pacing, Fergus reveals. "Dan was like, 'We have a high emotional moment and we have to go right to the next escalation of that. The party scene just kills that,'" the screenwriter says. "It was just one of those great scenes that we had to let go."
While his onscreen cameo was left on the cutting room floor, Ghostface did contribute an original song to the soundtrack, "Slept on Tony," a somewhat cheesy track in which Ghost spits rhymes like "Yo, when they kidnapped your boy and forced me to do evil/I created an iron suit, to protect my people" over funk licks. If the track lacks the hallucinatory rush of Supreme Clientele, that may be because Ghost is catering to someone else's vision of Tony Stark rather than his own.
In retrospect, it's clear that Ghostface Killah contributed far more to Iron Man than just a soundtrack cut. He tirelessly brought the legend of Tony Stark(s) to the forefront of pop culture long before Marvel movies were a billion-dollar industry.
"It was cool that he was plugged into that before," says Fergus. "I remember people sneering when they saw the billboards: 'Iron Man, ugggh.' I was thinking to myself at Starbucks when people were goofing on the billboard across the street, 'You know, I think you're gonna be surprised when you see this. It's pretty badass.'"