Crossbones Actor Frank Grillo Confirms New DC Universe Role: "I've Jumped Ship"
Frank Grillo, who played Crossbones in the MCU, very coyly confirmed a secret role in the new DC Cinematic Universe.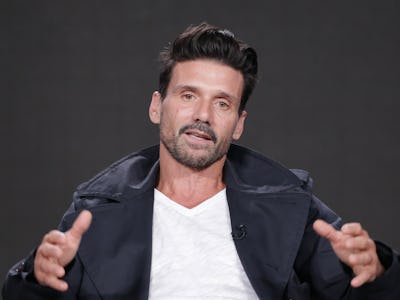 Variety/Penske Media/Getty Images
It seems as if former MMA-fighter-turned-actor Frank Grillo always has something new ready in the back pocket — including a potential project in James Gunn's new DC Cinematic Universe. Long before he became immersed in the world of superheroes and costumed villains back in 2014, Grillo was cutting his teeth on smaller roles in underrated action films like Warrior, The Grey, and End of Watch. And outside of his escapades in the Marvel Universe, he's also recognizable to horror fans as Leo Barnes, the grizzled badass blowing his way through Purge Night in both The Purge: Anarchy and The Purge: Election Year.
Naturally though, the role he's probably most quickly recognized for is Brock Rumlow, aka Crossbones, who appeared in Captain America: The Winter Soldier and its follow-up, Captain America: Civil War. Introduced in Cap's second outing as a HYDRA sleeper agent moonlighting as a S.H.I.E.L.D. security enforcer, Grillo brought to life Crossbone's arrogance and brutal physicality, before doubling down on the character's white-hot rage in the next installment. Despite being a fairly memorable villain (one with a lot more storytelling potential in the comics), Grillo never got the chance to truly stretch his legs in the role — which might just explain why he's made the decision to jump ship for the DC Universe.
"Marvel's Marvel, and there are so many characters," Grillo tells Inverse in an upcoming interview in promotion for the upcoming film One Day as a Lion. "But I do think as a villain, they could have definitely expanded on that character a bit more."
After a pause and a sly smile, he adds, "But now I've jumped ship over to DC, and I think I'm gonna have more fun over there than I did over here." While his lips remained firmly shut on other details, it's official confirmation of a rumor that began when Grillo attended the red carpet premiere of Shazam: Fury of the Gods.
While exciting, the news does carry a twinge of frustration. Brock Rumlow is a great villain with a rich history in the comics, one that Grillo was fully on-board to commit to. "He's not a supervillain, he's basically human. He's a badass. And people kind of identify with that." Indeed, aside from Rumlow's history in the source material, it was exciting being introduced to a threat who was so physically formidable without being super-powered, and the promise of his return in Civil War felt like an opportunity to give Captain America (Chris Evans) a vengeful new threat motivated by a personal vendetta. Instead, the character was killed off rather unceremoniously at the beginning of the film — speaking to a problem with recurring antagonists that has existed almost from the beginning of the franchise.
"I think they did, early on, miss the boat," Grillo explains, "because Crossbones is only on-screen for 8 minutes, or 12 minutes, whatever it is."
Conversely, it's fantastic that Grillo is getting the chance to step into an expanded role over at DC. While there's been no official confirmation of what that is just yet, the actor took to Instagram back in March to tease his involvement in Creature Commandos, along with fellow comic book movie alum Ron Perlman. Although the supernatural team's upcoming project is an animated series, James Gunn already confirmed that characters from animation and other mediums will also appear in live-action DC Universe properties. Eventually, we'll find out more information about how Frank Grillo fits into this new world of gods and monsters, but at the very least, it's reassuring to know he'll be there for longer than 12 minutes this time around.